Many cabin managers in Pigeon Forge and Gatlinburg TN think of decor as an unnecessary cost that they rather avoid. At Stony Brook Cabins, we don't see decor as an expense, but as an investment — and one with a high return rate.

As property managers in the market for many years, we've come to realize that most people would gladly pay a little more for a stylish place. After all, they're looking for that dreamy mountain cabin feel. In a nutshell, having a design-centric mindset means higher nightly rates.

The visual appeal of a cabin plays as much a role as price, location, and convenience when guests evaluate rentals. Beautiful cabins with sleek designs always earn more money than similar cabins that look dull, even when they offer the same comfort.

This case study will evaluate three different cabins, all with four rooms and very comfortable. However, one stands out because of its stylish decor, something that directly boosts its nightly rates.



As you can see, Mountain Soul commands a higher nightly fee than the other two cabins, even if it offers less outstanding amenities. What do you think they are doing right?


In this post, we'll break down some reasons why Mountain Soul is doing better than its competition. In the process, we'll offer you some fantastic decor tips to increase your nightly rates, too.



1. Think about furniture composition

The right furniture composition can transform a boring space into a perfectly picturesque environment. The audience for big and chunky furniture is smaller and tends to spend less money.
Even if your place is more on the "rustic" or "traditional" side, a modern touch with contemporary design pieces will add a sense of lightness. Opt for pieces with fewer adorning features, textured armchairs and couches with thinner legs, and minimally patterned fabrics. These aspects will add a sense of lightness to your space.

Carpets are lovely to create a sense of space, especially when they reach many pieces of furniture at once. Soft colors and textures are the way to go.

Extra tip: if the goal of your cabin is to provide a good passive income stream, consider designing for your ideal audience, not your personal taste.

How does Mountain Soul get it right?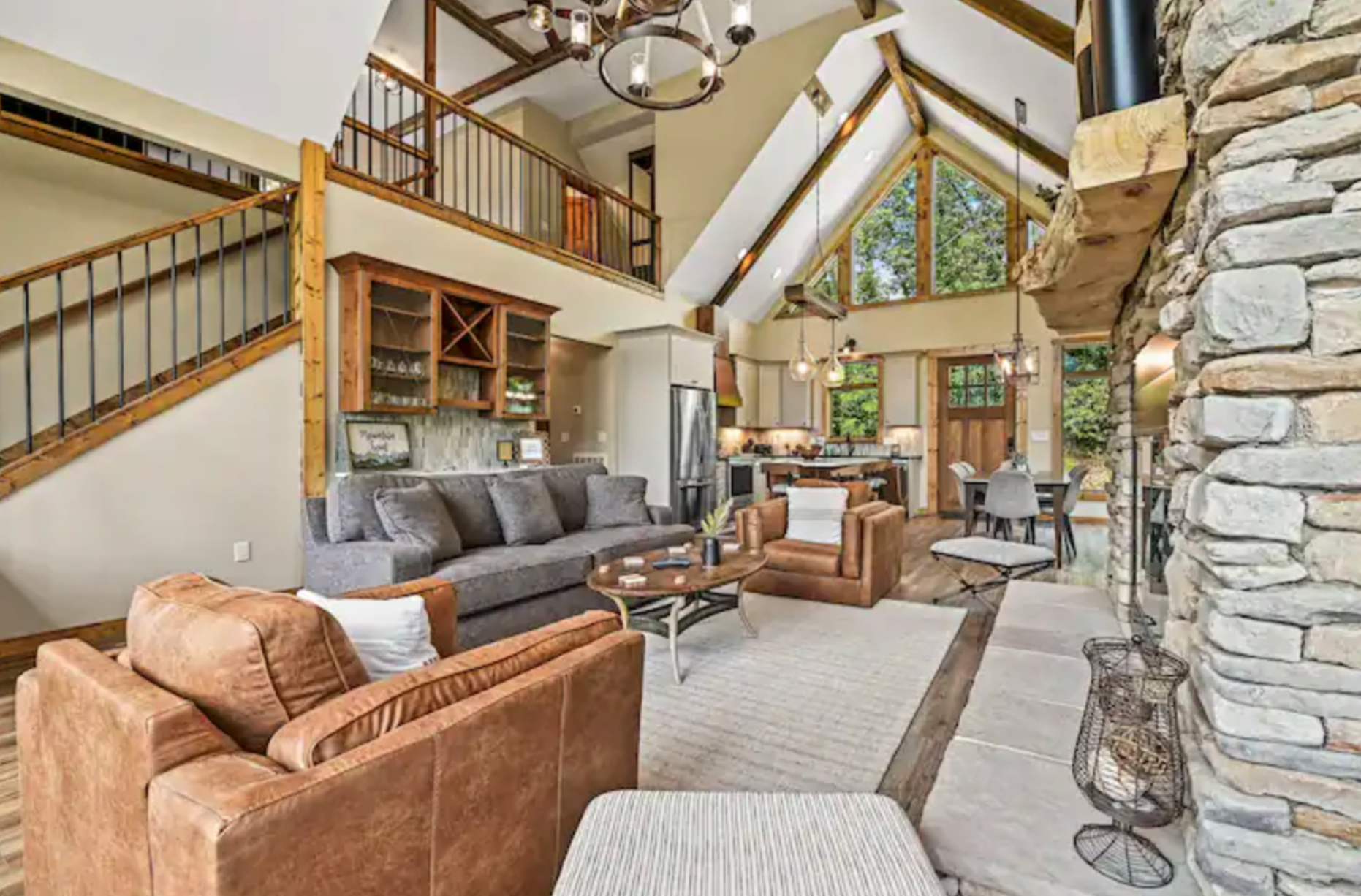 The living room at Mountain Soul

Mountain Soul is rocking the furniture game. Their sofa has a simple and clean look and the neutral, always-on-trend gray color adds a contemporary touch to the ambiance. The leather armchairs are a classic choice that adds a sense of luxury to the ambiance. Composing the living room and large enough to touch multiple pieces at once, the textured rug adds a sense of elegance and length.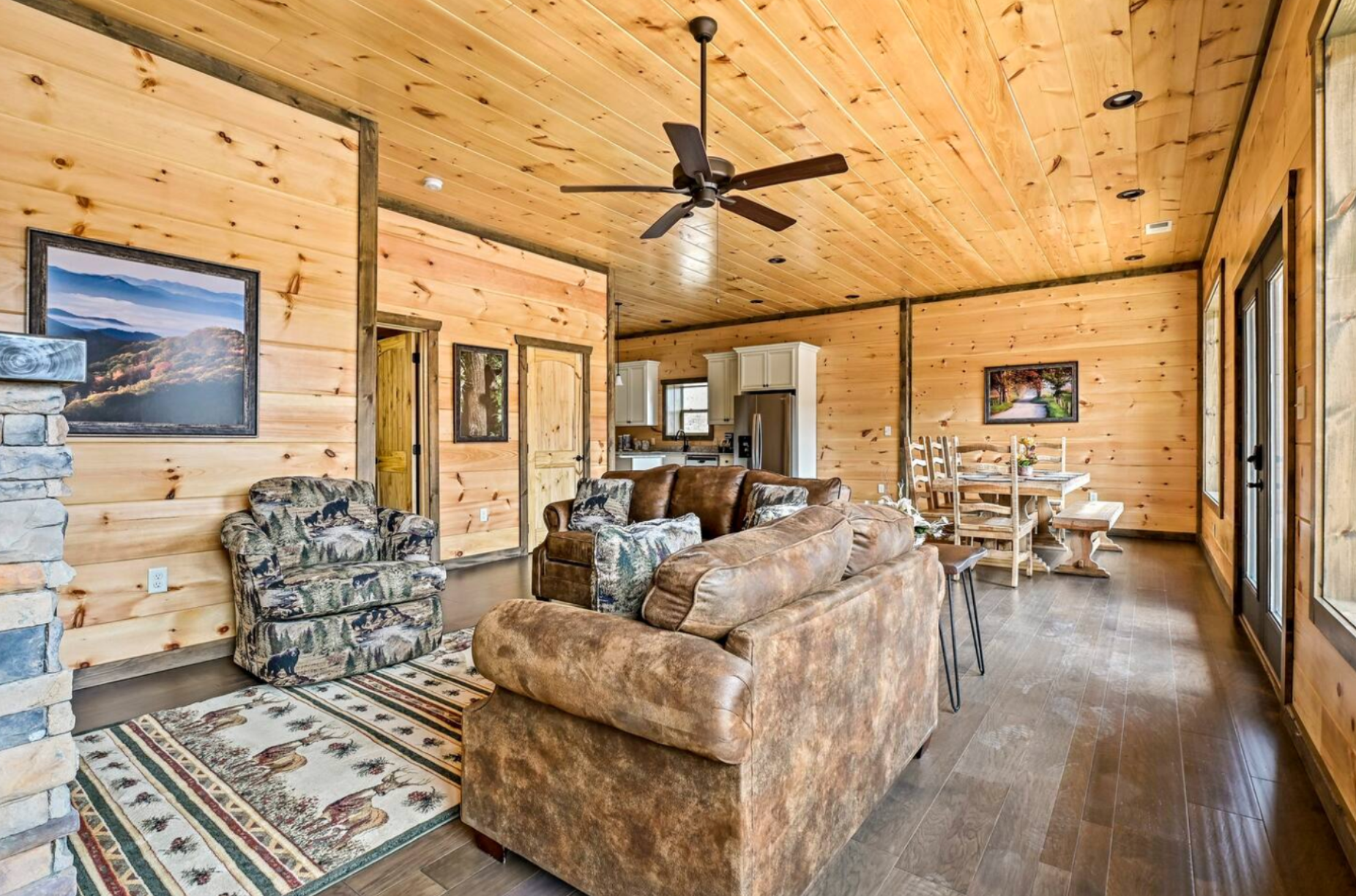 The living room at Splashin Around
By contrast, in the living area of Splashin Around, the furniture mix isn't diverse enough. The brown sofa brings no lightness to the room. The rug could be larger to give a sense of space and its design is too intricate, adding no contrast or style.

Extra design tip: your furniture pieces need to be the correct size so that the space doesn't feel cramped. Also, your maximum number of guests should all have a comfortable seat to relax in the living room and dine.



2. Tell a story with selected pieces & art

Even if your decor is updated, there's also space for a few more intricate or vintage pieces. Usually, these are the ones that infuse a space with character. With rental cabins, it's a wonderful idea to relate such pieces to the historical context and scenery of your surroundings. You can pick artifacts and artworks crafted by local artisans that showcase local culture. This is a great way to use your decor to tell a story and touch your guests emotionally, before, during, and after their stay.


How does Mountain Soul get it right?

The game room at Mountain Soul

Besides flooring, door, and window framing, the Mountain Soul Lodge uses a lot of wooden details in wall art, which relates to its proximity to lush nature. In the game room depicted above, there's an entire wall with wood paneling. Besides that, the selection of framed vintage posters relates to mountain life in the Smokies.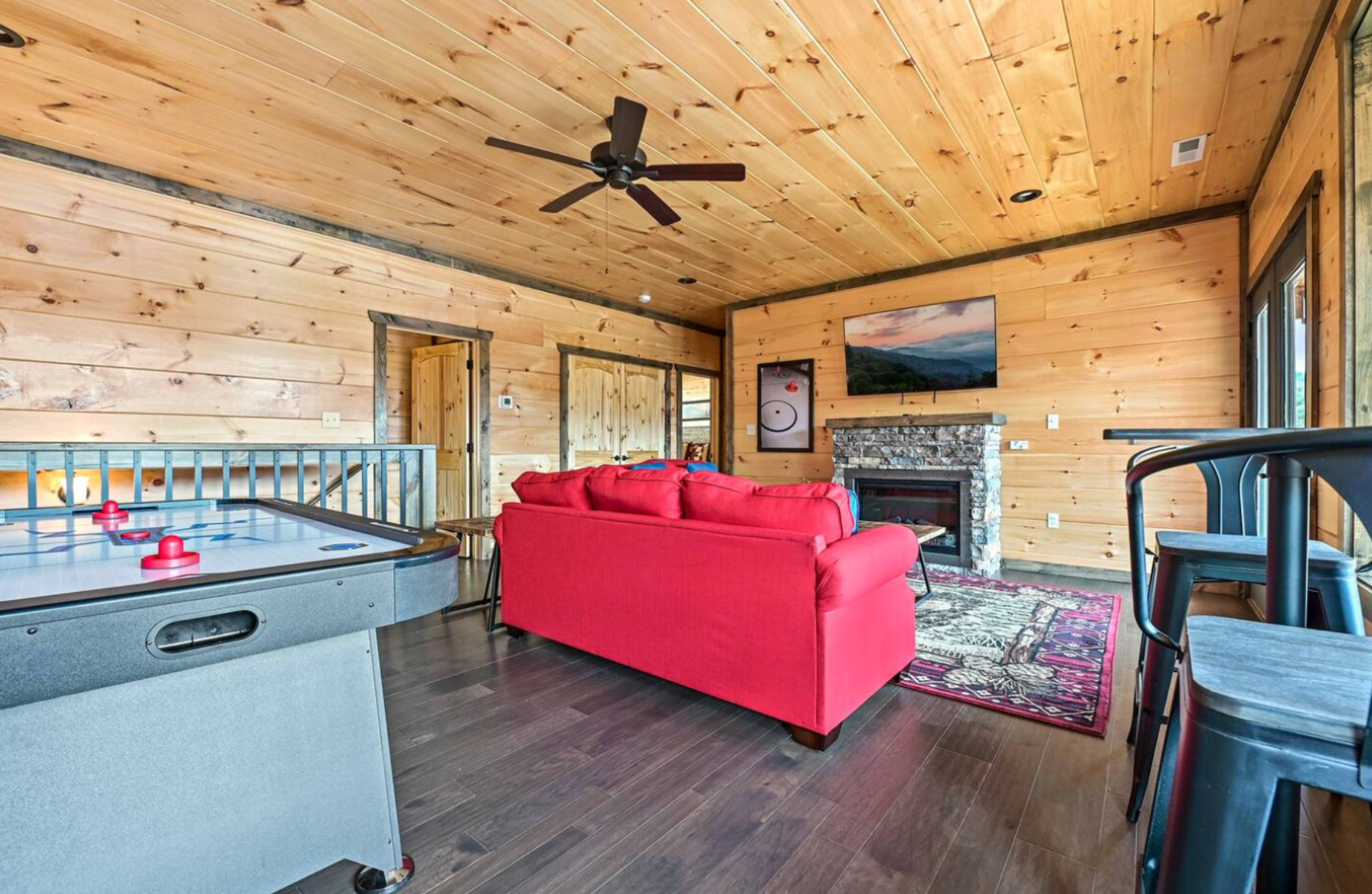 The game room at Splashin Around

Splashin Around's game room has all the potential to be engaging and inspiring. However, the decor is not inviting, tells no story, and doesn't touch guests on an emotional level.

Extra tip:
it's a good idea to name your cabin as something that relates to an overall theme that you choose for your decor. You can choose something significant and then carry it throughout the cabin.
3. Blend natural and artificial lighting

Lighting is one of the most critical elements in interior design. It relates directly to the way we perceive any ambiance. Whether artificial or natural, the light in a space can enhance colors, textures, and the overall mood. With cabin rentals, striking the right balance between natural and artificial lighting will improve your aesthetic.

Provide most rooms with indirect light with a selection of table and floor lamps. This helps to create a warmer, more emotional feel. Well-selected hanging lights add an extra charm and help create a cozy atmosphere.
Even if you don't have enough windows, there are always ways to leverage what you have to transmit more natural light through the rooms. Mirrors, for instance, can be very helpful when placed near or opposite windows.
A room filled with natural light is good, but it can sometimes be too much for some people. That's why you should always give them the option to regulate natural light to their liking with curtains and blinds in the bedrooms. These wonderful things also help to diffuse light throughout the space and can add a lot of charm to your decor.


How does Mountain Soul get it right?

The dining room at Mountain Soul

Mountain Soul gets it right by letting lots of natural light in through large windows that also frame a beautiful view. Their well-selected hanging lights add a sculptural touch to the space and create a cozy atmosphere at night, as does the light underneath the kitchen cabinets.

Extra lighting tip: avoid cold fluorescent lighting as they're harsh on the eyes and will ruin the atmosphere of any room. Warmer bulbs are the way to go.



4. Add some green touches
Just because your cabin is surrounded by lush greenery doesn't mean you should ignore the benefits of indoor plants. Studies show that most people love having beautiful green spots around them. House plants will add a fresh feel throughout the home, enhancing your coffee table and infusing your bedroom with delightful green vibes.

Concerned about maintenance? Choose faux plants; they look incredibly realistic nowadays. Nature-inspired art and furniture patterns offer another low-maintenance way to bring greenery inside, especially in bathrooms for a spa-like feel guests love.
A third low-maintenance option is to embrace the natural beauty around your cabin by incorporating large glass windows. This way, guests can stay connected with nature while enjoying indoor comforts. With the breathtaking scenery of the Smoky Mountains, bringing nature inside your cabin is a fantastic idea.


HOW DOES MOUNTAIN SOUL GET IT RIGHT?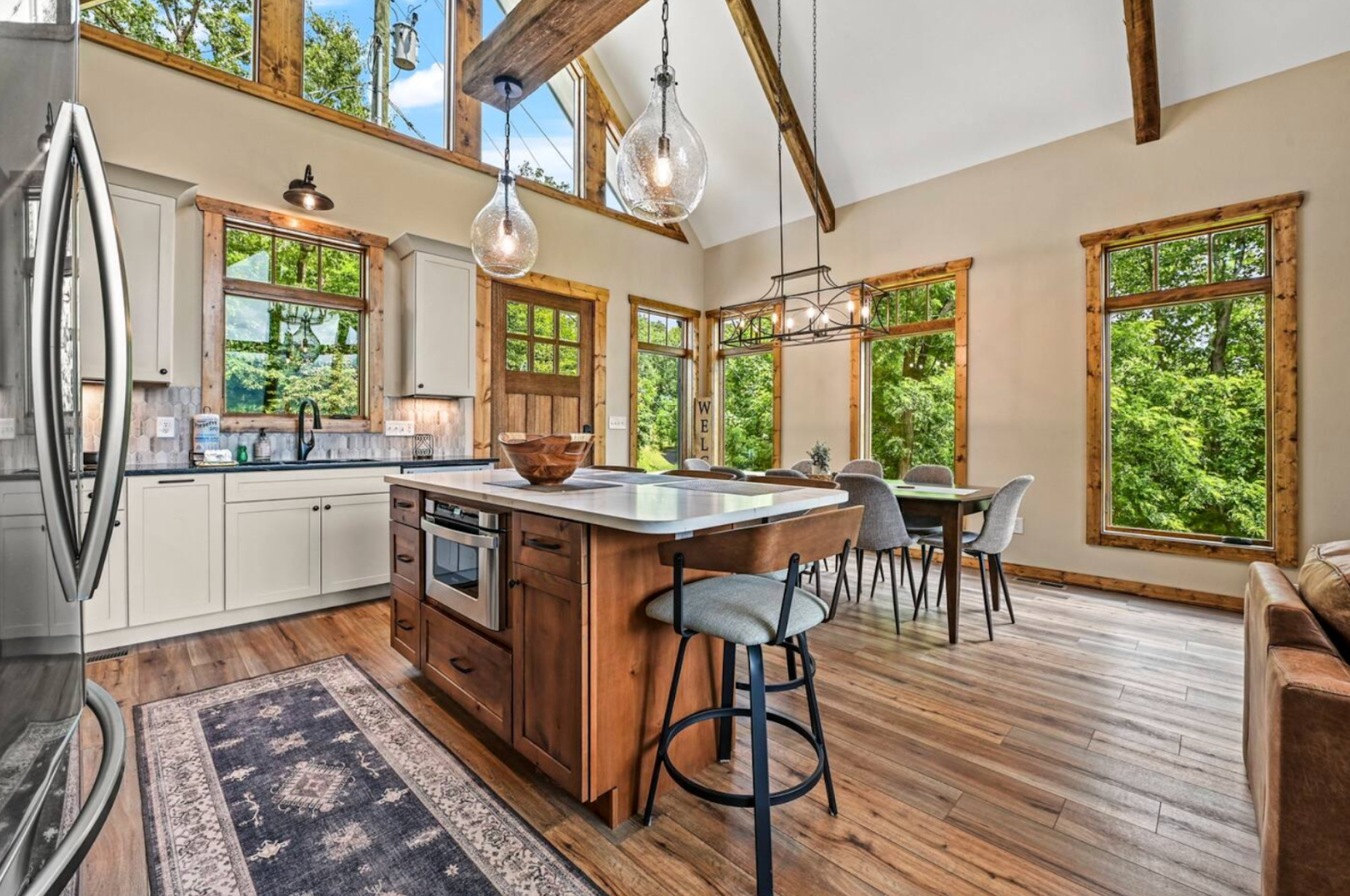 The kitchen at Mountain Soul

Mountain Soul maximizes its position amidst greenery by bringing nature inside through many glass windows. Guests can relax and enjoy meals together in the open kitchen and dining area with a refreshing sensation of being outdoors.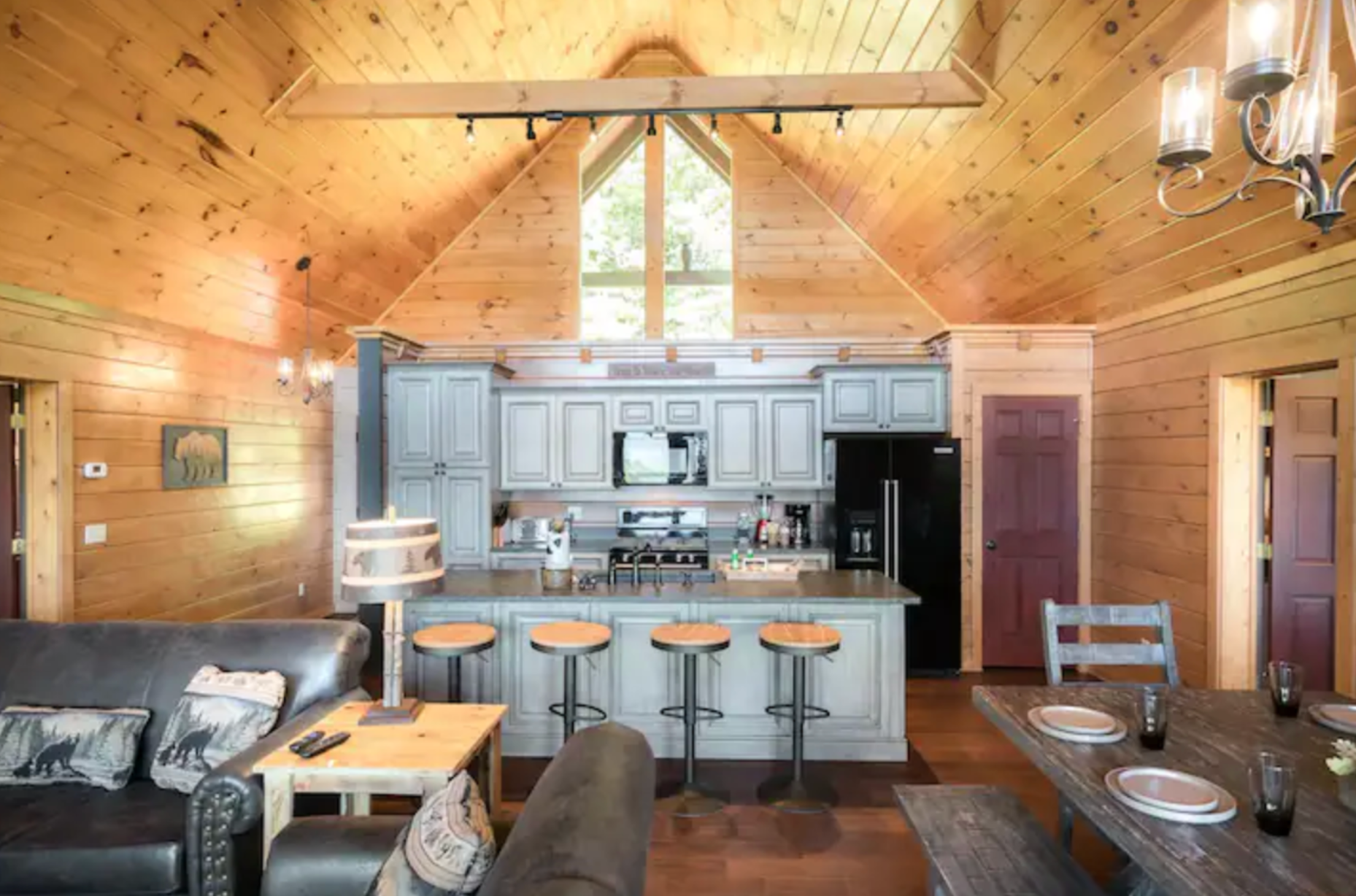 The kitchen and living room at Bearside Cabin
A couple of indoor plants would have added a refreshing feel to the main space at Bearside Cabin where windows are not as large.
Extra tip:
when selecting indoor plants, both artificial and real, take into consideration your geographic location. Tropical palm trees might feel weird in a rustic cabin in the Smokies.
5. Elevate Your Kitchen Game

As industry reports show, a good kitchen is one of the key reasons guests choose vacation rentals over hotels. They want to wear their chef hats and cook meals and dine with friends and family. That's why a sophisticated and modern kitchen with high-quality materials and appliances will surely add value to your cabin and help raise your nightly rates.


How does Mountain Soul get it right?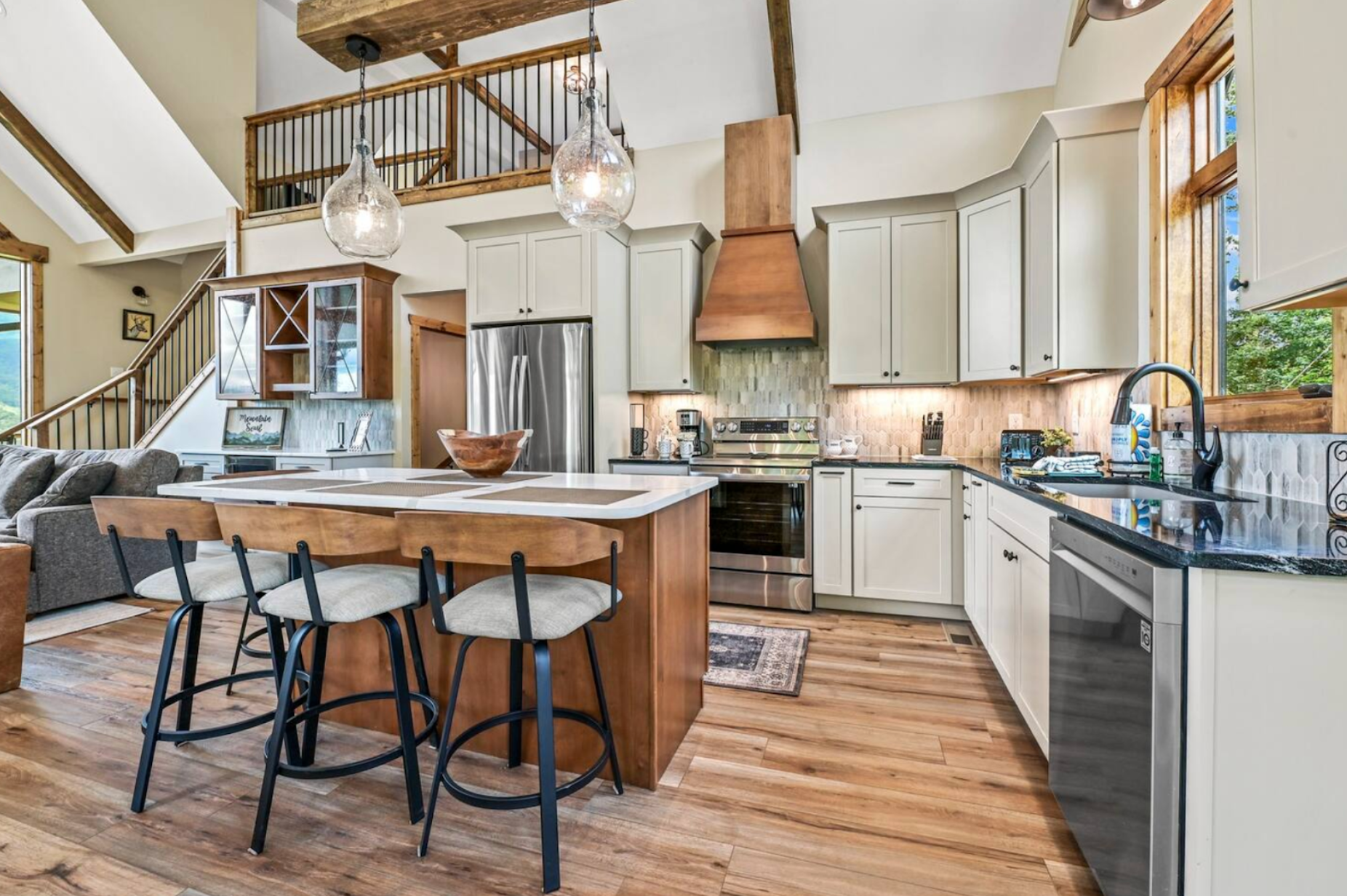 The kitchen at Mountain Soul

We can very well say that the kitchen at the Mountain Soul cabin is its heart and, indeed, its "soul." The hardware is updated and the cabinets are in light colors, something that brightens the space and gives the kitchen a sleek look. Well-selected materials for countertops also add a sense of luxury. Finally, note how the beautiful high benches and carpet add a touch of elegance.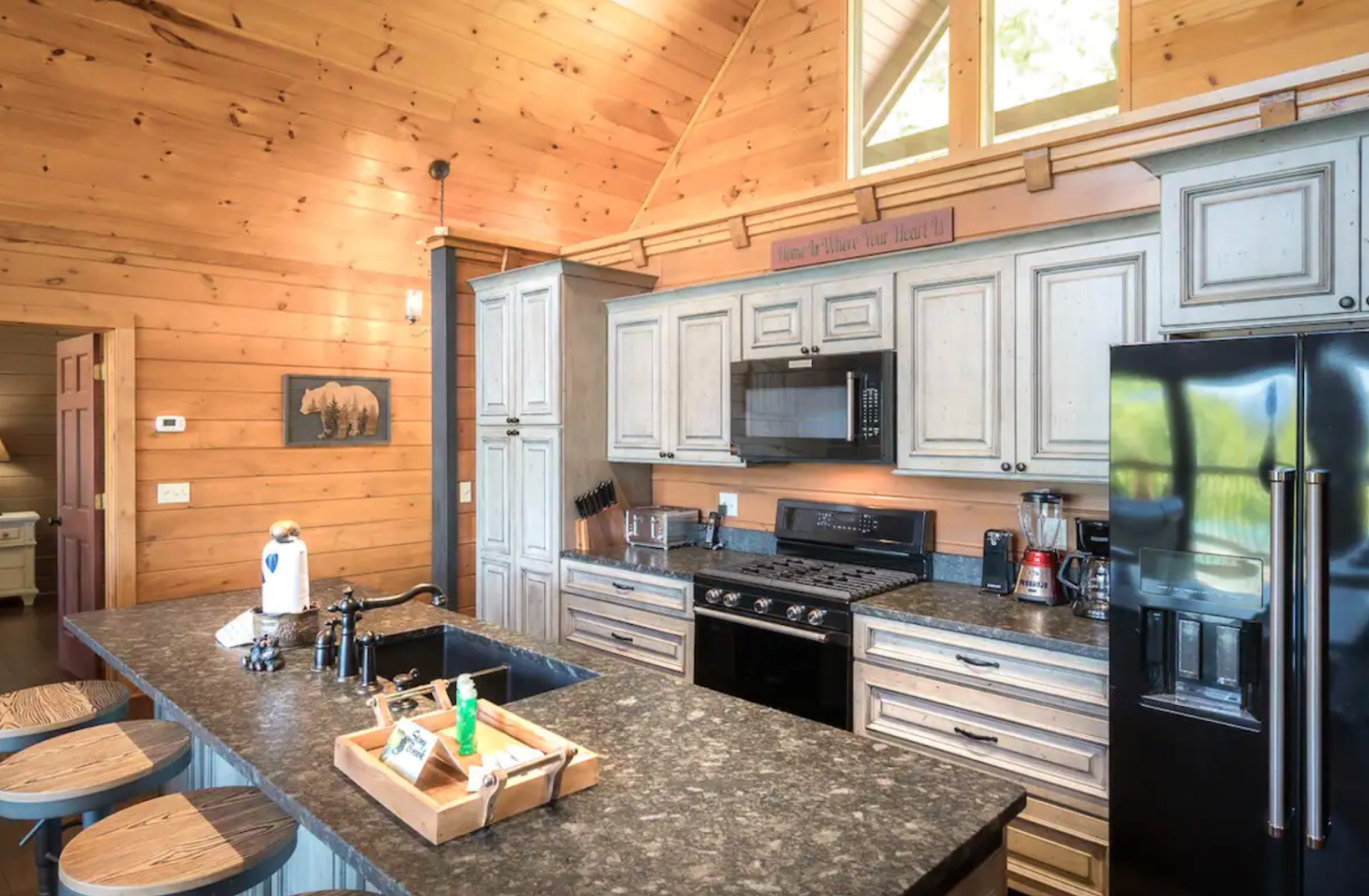 The kitchen at Bearside Cabin

The kitchen at Bearside Cabin is functional, but it could be more gregarious. Also, the cabinetry and appliances look oldfangled. There's not enough sense of it being a fancy kitchen.



Boost Your Nightly Rental Rates with Stellar Interior Design

When making design choices, always consider who your guests are. Families with children will seek cozy and safe spaces to enjoy each other's company, while urbanites couples and "workationers" may prefer comfortable and well-equipped workspaces, possibly with romantic views.

No matter the approach, decorating your space in the right way can boost your annual gross revenues by $25,000 to $30,000, believe it or not, and create even more memorable guest experiences.

Final extra tip: have fun while doing it!