Gatlinburg Weddings
GET MARRIED IN GATLINBURG
Looking for that perfect spot for your special day? Consider a wedding in Gatlinburg – one of the country's most popular wedding destinations. Surrounded by beautiful scenery, stunning vistas and tumbling rivers the Great Smoky Mountains allow you many options for your wedding. You can hold your wedding riverside, or stand on the rocks in the tumbling river; you can have your service in your cabin, or on a trail in the National Park. Gatlinburg is a great spot to get married.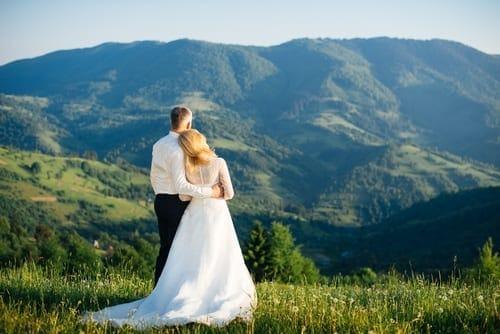 Stony Brook has been a mainstay in the customer service business in Gatlinburg for over 20 years. In that time, we have assembled an extensive list of experts who can handle any and all aspects of your wedding. So you could wait 'til you get here and start going through the phone book, or you could let Pam make your wedding planning easy. Tell her exactly what you want, and let her pull all the pieces and parts together for you. Exceeding your expectations is her goal, and she is really good at it. Flowers, cakes, gowns, tuxedos, reception halls, guest accommodations, honeymoon cabins, side-by-side massages, chef-prepared in-house meals, photographers, photo albums, gift baskets, limos, delivered groceries – that's the short list of things we've been able to arrange in the past. See something missing from the list? Call and ask for it; we'd be glad to arrange it for you!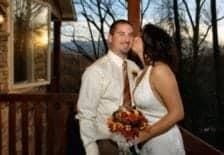 We specialize in cabin weddings. This offers you total privacy. You will not feel rushed by the next group in line for the chapel. There will be plenty of room to dress and prepare for the ceremony and you can hold the reception right there in the cabin.
Lakefront Gazebo
Get married at our beautiful Lakefront Gazebo! Our Lakefront Gazebo is perfect for small weddings and group gatherings/receptions. You can rent it for $150 for 1 hour.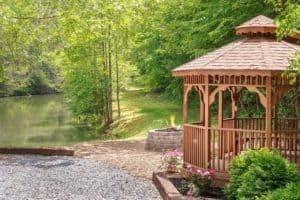 Marriage Licenses
Marriage licenses may be obtained at either of the following locations:
Sevier County Courthouse
125 Court Ave
Sevierville, TN 37862
County Court Clerk
Phone: (865) 453-5502
Monday through Friday, 8:00 a.m. to 4:30 p.m.
(Please call to check for Holiday Hours)
Sevier County Online Marriage License Office
Satellite Clerk Office
405 Reagan Drive
Gatlinburg, TN 37738
Phone: (865) 430-3404
Monday and Friday, 8:30 a.m. to 4:00 p.m.
Wednesday, 8:30 a.m. to 12:00 p.m.
and Saturday, 9:00 a.m. to 1:00 p.m.
(Please call to check for Holiday Hours)
No blood test is required in the State of Tennessee (if both parties are 18 or older). Regardless of age, proof of age is required – Certified birth certificate, driver license, or school records are acceptable. You do not have to be a resident of Sevier County or the State of Tennessee in order to be married here.
Cost of License (out of state): $38.50
Cost of License (Tennessee resident): $98.50
A la Carte Items
At Stony Brook, we want to help make your wedding day special and easy to plan. We know all of the best places where you can get flowers, cakes, and so much more. These are some of the many services we can provide referrals on:
Photographer
We're happy to help you with a photographer by offering you a few names of our favorite photographers in the area!
Cakes
All made to order and made from scratch — you can have a cake that is beautiful and delicious!
Bouquets
You can get bouquets customized to whatever you desire.
Boutonnieres
Let us help you find the perfect boutonniere for your big day.
Personal Chef Services – Learn More.
Specialty Baskets and Gifts
Whatever gifts you have in mind, we'll do our best to make sure you're provided with them.
Side by Side Massage
Enjoy a professional therapeutic massage right in your cabin.