As expert cabin managers in Pigeon Forge and Gatlinburg TN, we know just how overcrowded this market is getting. Stats show our segment had a 50% increase in inventory over the last two years. As competition heats, only truly unique cabins will stand out from the noise and get constant bookings.

Once more, the trick is paying attention to the quality of your photos and updating your decor, but there are also other factors that will make you stand out from the roughly 16,000 other cabins in our region: your amenities.

Let's dig into some of our high-performing cabins to understand how they seize the spotlight, capture guests' attention, and keep them happy throughout their stay. While we're analyzing extra-large cabins with many rooms, their example can also be followed in smaller units, so open yourself to the inspiration that lies ahead.



Tanglewood Mountain Lodge's optimal image group is truly captivating.

Even with a vintage design, which usually means a lower performance compared to more sleek-looking cabins, Tanglewood Mountain Lodge performs remarkably well. That's because the cabin makes the most of its structure and outdoor areas.

Their hero image features their wonderful deck with a glowing hot tub with sprinkles of water along with a firepit under fairy lights at dusk. Talking about capturing viewers' attention with a dreamy picture, right?

On top of that, there's another firepit in the backyard surrounded by wooden garden chairs. That's a perfect setting to roast some marshmallows or hot dogs.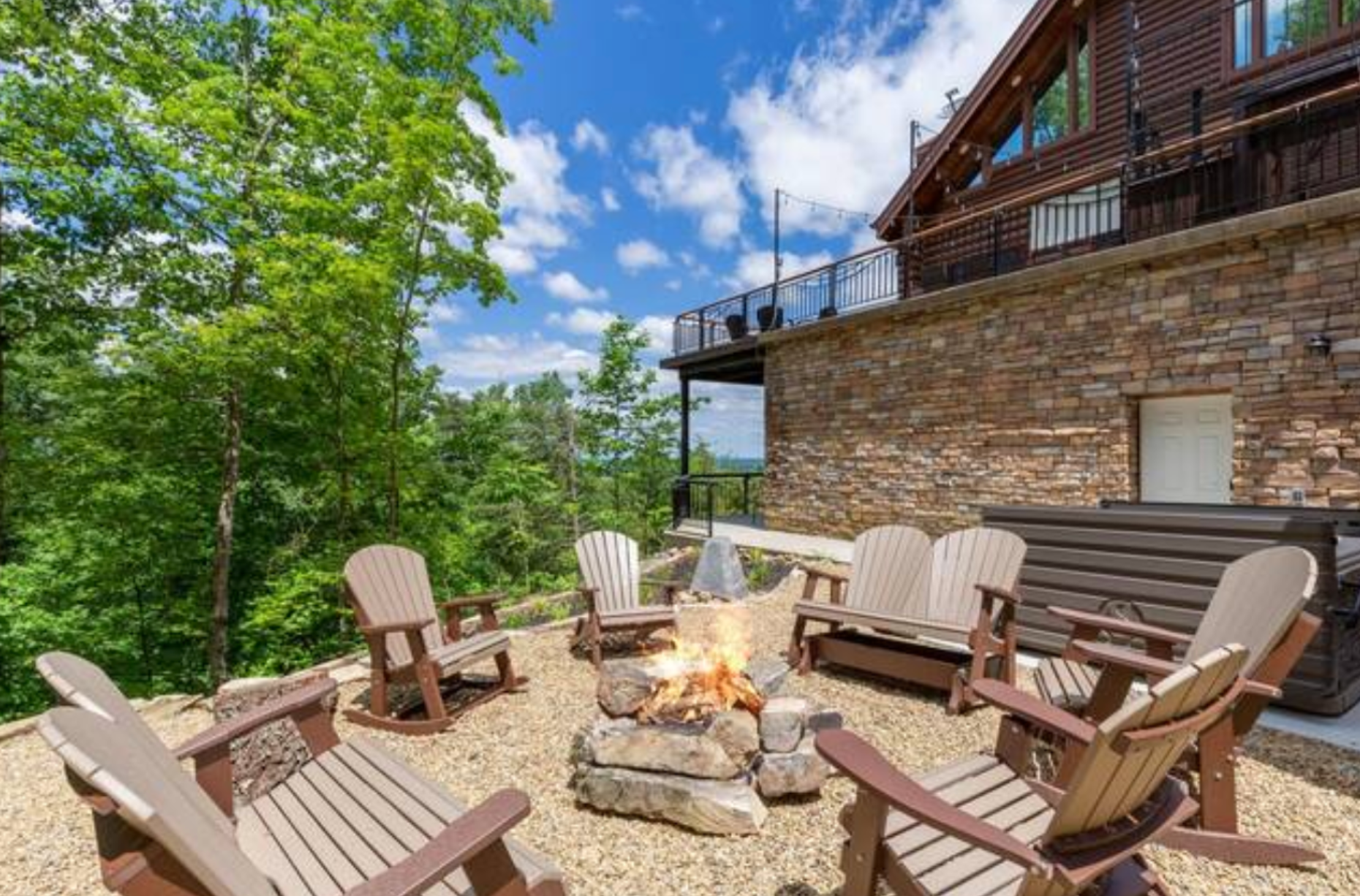 Extra firepit at Tanglewood Mountain Lodge.

In the album, you'll also find several pictures of arcade games and the pool table in the game room and a pretty comfy home cinema. Viewers instantly see there's no lack of entertainment options in the cabin.



Game room and home cinema at Tanglewood Mountain Lodge.

These are all wonderful amenities that add to what's already a pretty outstanding cabin with a sauna and well-equipped kitchen.




Sauna and kitchen at the Tanglewood Mountain Lodge.

Pro tip: whether it is a sprawling garden, an extra garage space, or even a small balcony, there are many possibilities to elevate your outdoor spaces just like Tanglewood Mountain Lodge did. Following their example will for sure make you stand out and give your guests extra opportunities for leisure and enjoyment.



Grand Mountain Getaway has a dream-like optimal group.

The Grand Mountain Getaway also does a great job with its optimal group: the hero shot is a dream sunset featuring the facade and a lovely pond. Then, we see their hot tub under fairy lights facing abundant greenery. All this combined is a real attention grabber!




Entertainment options for all age groups at the Grand Mountain Getaway.

Besides the great home cinema, there's also a fantastic game room with the basketball arcade game Home Dual-Shot. For the little ones, there's a kid's area with a mini grocery shop.




Living room and kitchen detail at the Grand Mountain Getaway.

The home decor is superb and cozy and the kitchen is top-notch. The cherry on the top of the cake is a beautifully decorated veranda with a fireplace where friends and family can gather to watch movies in the open air.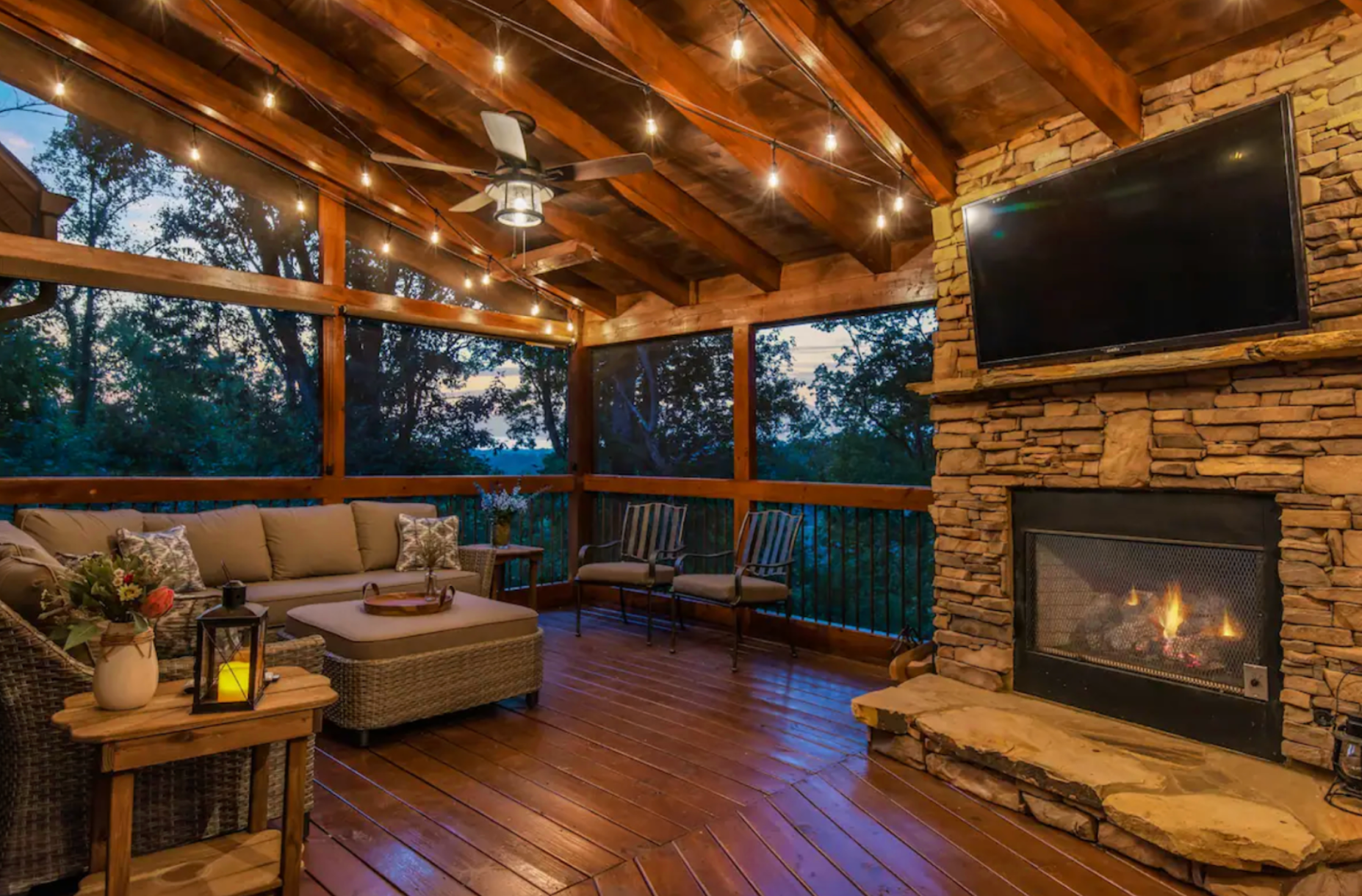 The veranda at the Grand Mountain Getaway.

Pro tip: photographing your cabin at dusk with indirect lights on is the way to go for a dream look that touches potential guests emotionally.



Simply the Best optimal group.

Simply the Best has a great optimal group to grab people's attention. It features a sleekly decorated living room with just the right furniture pieces and plenty of large glass windows that integrate the exterior and interior. We also see the actual picture of the view — a great differential — and the expansive deck area. This property has not one; but two jacuzzis in their outdoor areas.




Large bedroom and spa-like bathroom at Simply the Best.

Bedrooms and bathrooms are extra luxe. The former has big bay windows and the latter has a spa-like feel, especially for being extra spacious and because of the elegant bathtub.




Home cinema and karaoke corner at Simply the Best.


Even their cinema escapes the ordinary. It's ample and decorated with fun movie posters and a red curtain — that's a special touch. There's even a corner dedicated to karaoke nights in the same room.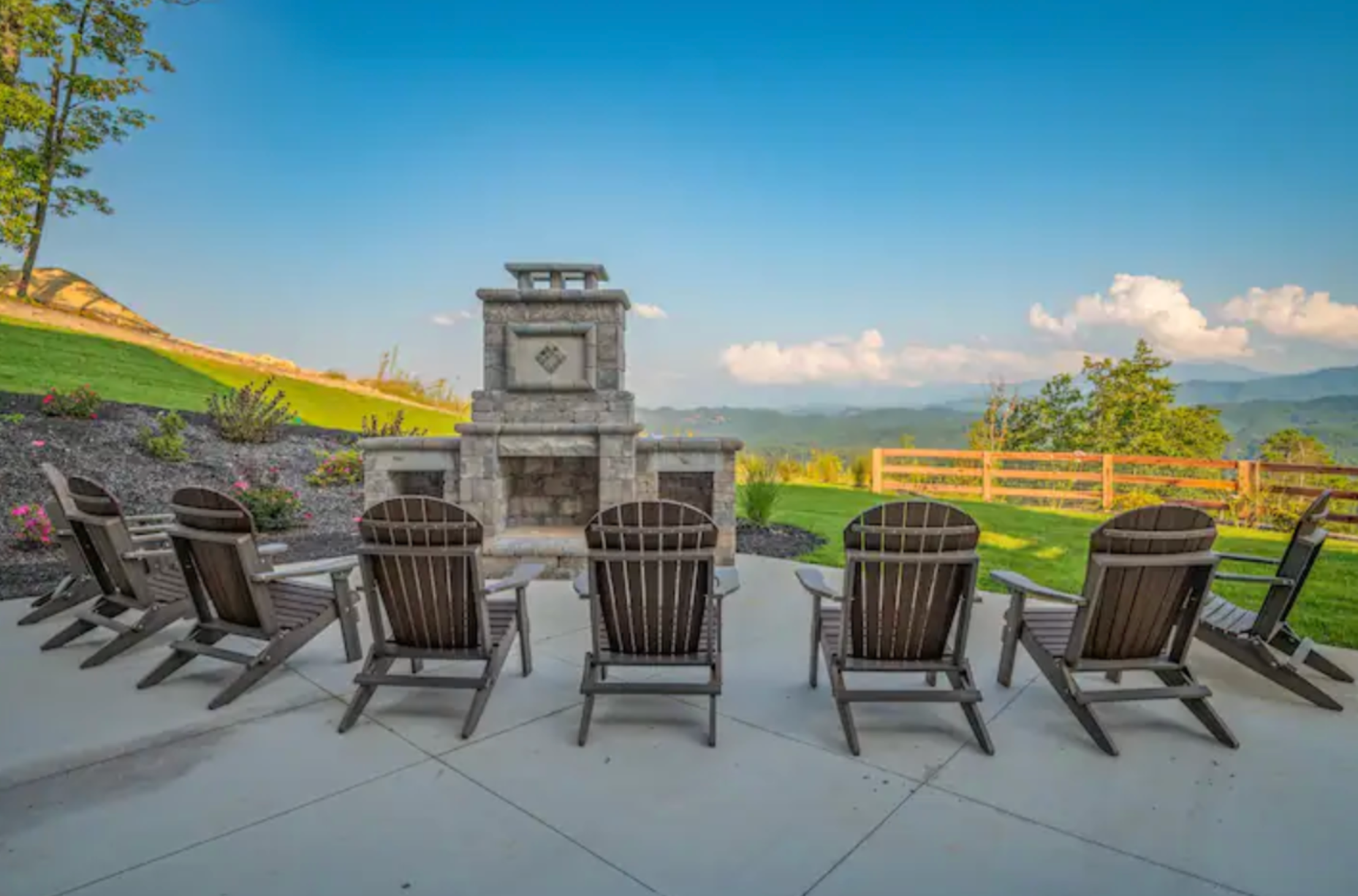 Exceptional outdoor fireplace at Simply the Best.

The "tour de force" is the wonderful outdoor fireplace. It sits in a perfect position with a view of the valley right behind it making for a totally inviting space just to relax and enjoy the calm vibes of the Smokies. This is also a genius way to tap into the emotions of your potential guests.



The optimal group of Livin' The Dream is all about the colors of fall.

The name of this property says it all. The setting, amidst Gatlinburg's vibrant hues of autumn foliage, is really a dream — especially if you throw in a private pool by a vast lawn as a bonus. Everything is perfectly conveyed in their optimal group.




Interior decor at Livin' The Dream.

There's more to Livin' The Dream than its stunning outdoors. Its unique decor strikes the right balance between rustic and sophisticated design choices to create a space that feels warm, inviting, and upscale.




Instagram-worthy details at Livin' The Dream.

There are plenty of "Instagram-worthy" elements that really catch the eye of potential guests like the lovely corner with a chessboard and the view and the fun signage by the fireplace in the sunroom.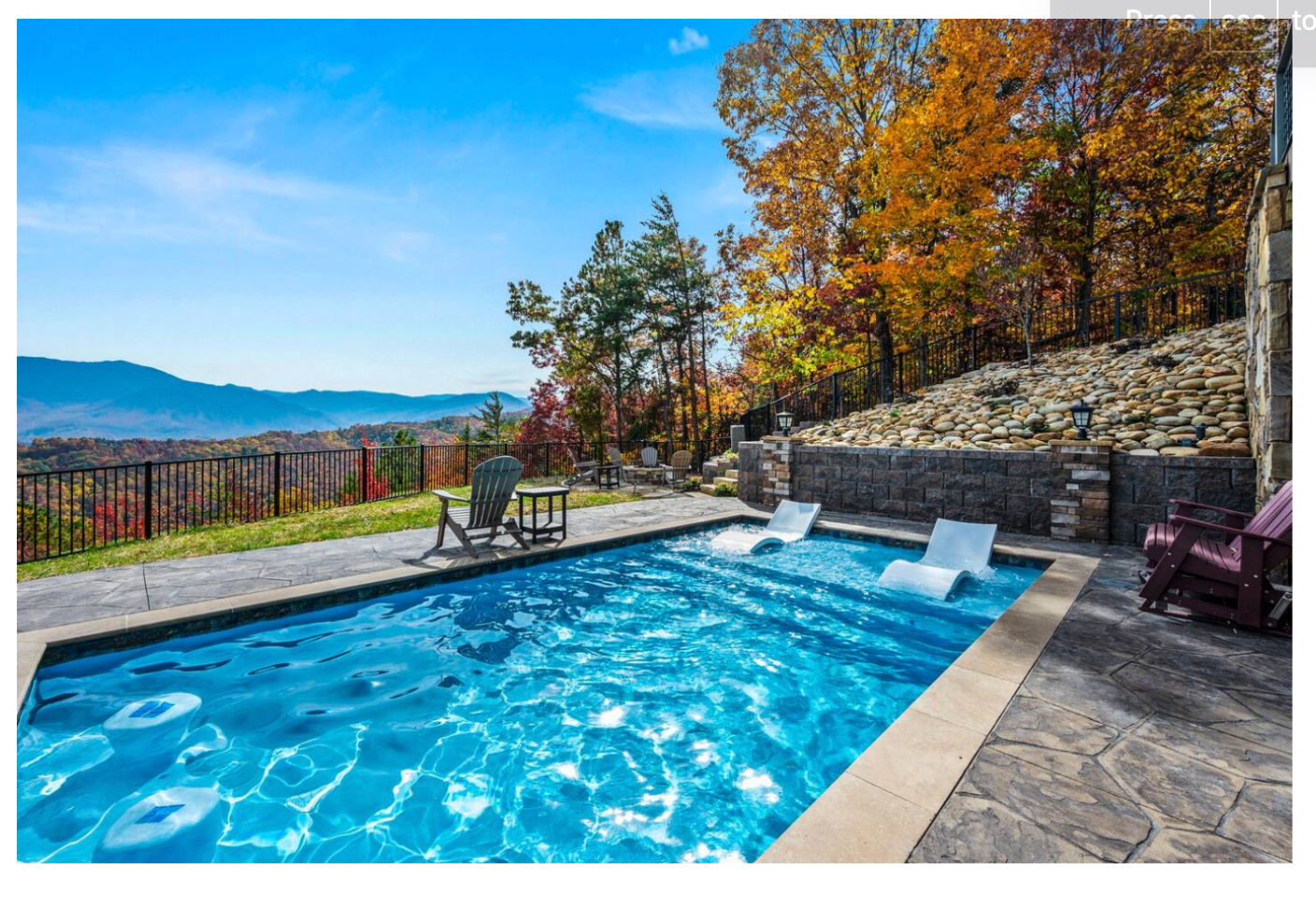 The pool and the view at Livin' The Dream.


The ultimate leisure amenity is the large private pool, a focal point of the house, which guests can enjoy in total privacy. That's an amenity that enhances the sense of luxury and the value of any property. Still, all the other details also play a pretty big role.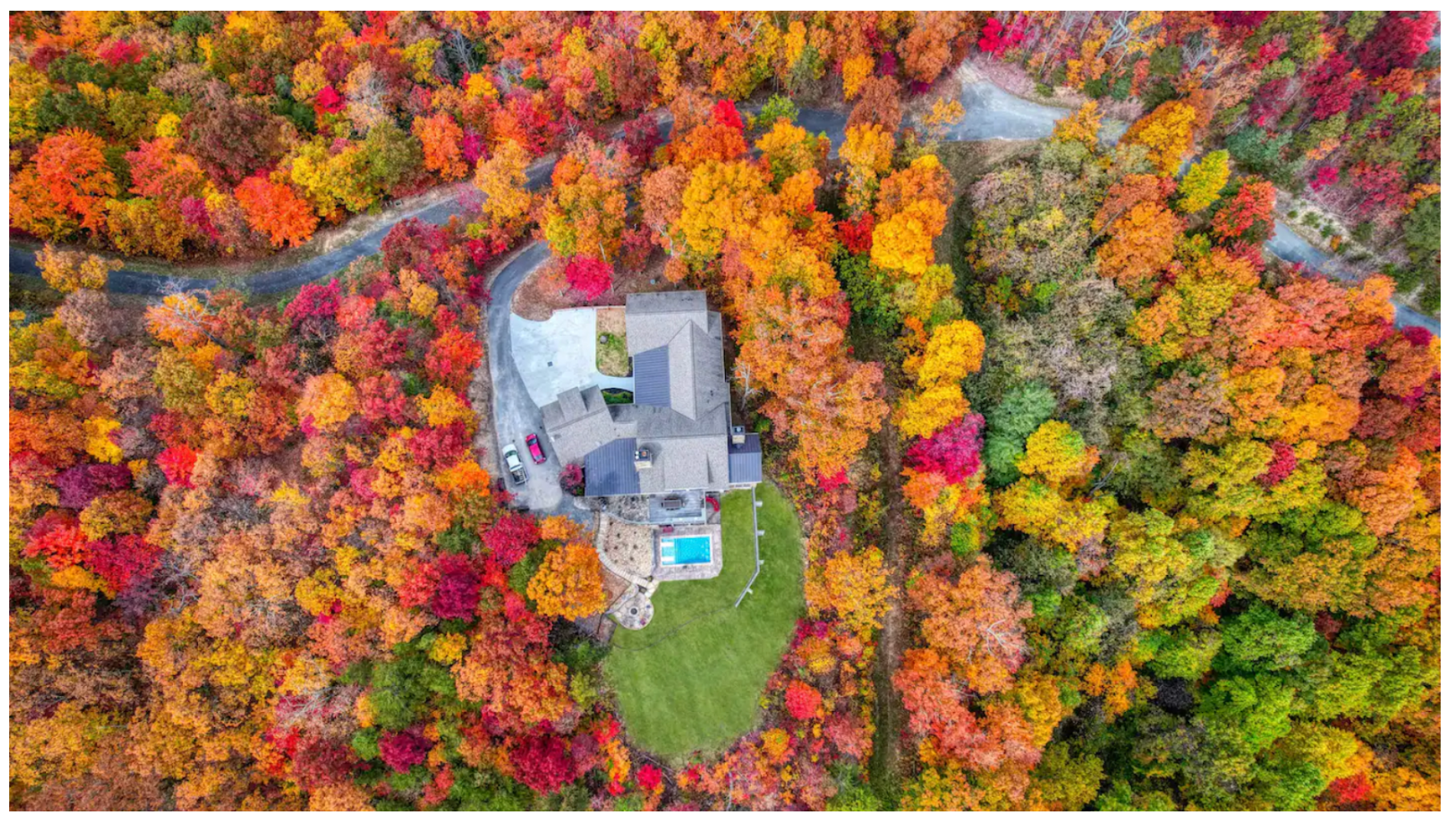 Bird's eye view shot of Livin' The Dream.

We just can't get enough of these kaleidoscopic colors. Look at this wonderful drone shot of the property. What a nice way to stand out and show great surroundings.
Pro tip:
amenities like private pools and cinema rooms are great to make you rise above the competition. But there's also another tool you can use: the power of thoughtful decor. Delve deeper into our insights with an additional
case study
showcasing the remarkable success of the Mountain Soul Cabin.
Bonus: Your Photos Matter

When people search for a rental online, the first thing that catches their eye is the photos. In today's competitive marketplace, your pictures should be extra captivating and grasp viewers' attention in a split second. For more insights, check this blog with tips on how to improve your photo game and make more money with your cabin.

Secrets to Standing Out with Your Cabin: Dare to be Different

Another secret to making your cabin stand out? Embrace its uniqueness and dare to be different. You know what they say, "In a world of ordinary, dare to be extraordinary."
Send us your suggestions on future blog topics. As a cabin management company in the Smoky Mountains, we are always eager to share our knowledge with other cabin owners. Reach out to us through the contact form below.