A tidy space is all it takes. Pretty straightforward, huh? Not really.

Every professional property manager in Pigeon Forge, Sevierville, and Gatlinburg knows that maintaining a clean and organized cabin is vital for financial success.

Still, don't fool yourself: cleaning and taking care of a rental cabin is an entirely different experience compared to maintaining your own home. It comes with its own set of requirements and challenges.

For one, with the constant turnover of guests, keeping your cabin in top condition requires more frequent cleaning and maintenance. Also, the time slot available for cleaning is smaller, especially when your cabin is consistently booked, as it should be.

This sounds similar to managing a hotel, doesn't it? Well…

Different from hotels, short-term cabins have kitchens, dining rooms, and outdoor spaces, as well as unique features and amenities that demand specific procedures for cleaning and maintenance.

As experienced cabin managers, we know many hacks to streamline tasks for our staff and ensure an impeccable experience for all guests. In this blog, we'll share nine of these strategies.

Get ready with pen and paper (or cloth and mop), as we'll present a proper cleaning masterclass by Stony Brook for you!


1. SEPARATE ROUTINE CLEANING FROM DEEP CLEANING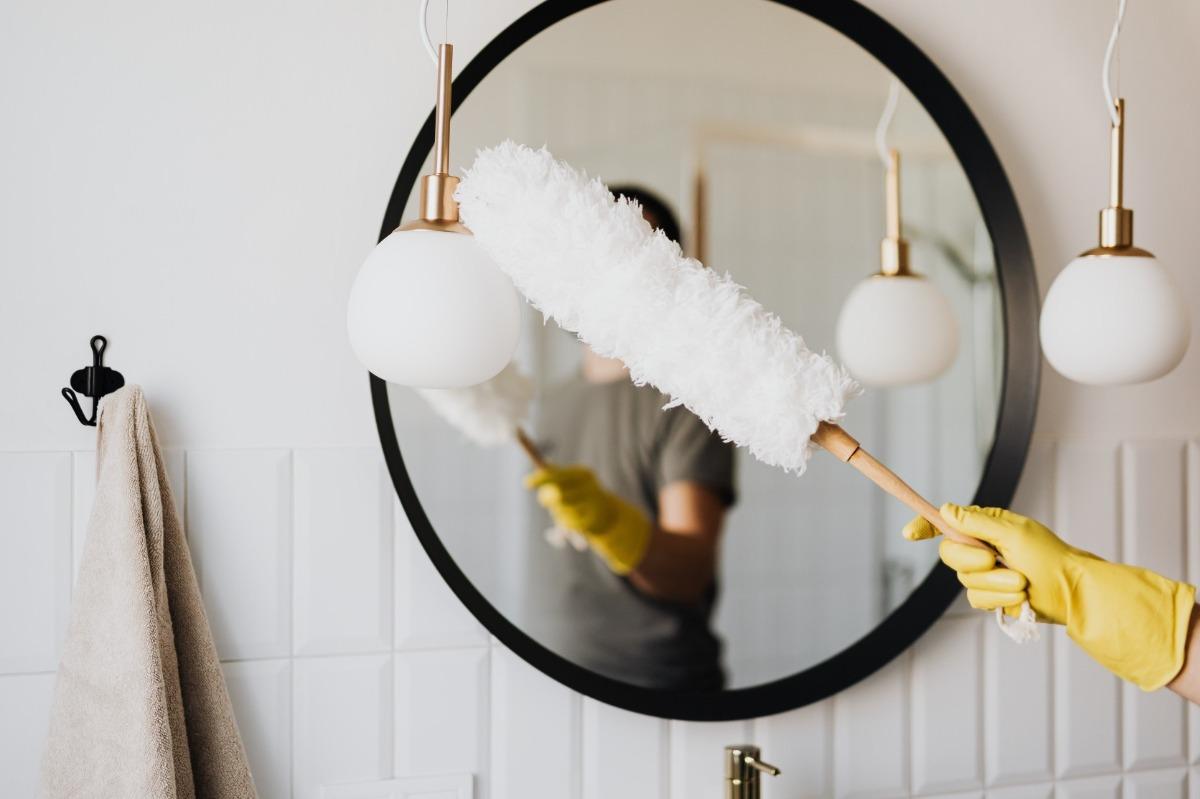 Let's face it: having a deep clean performed each time a guest checks out is impractical and extremely costly. You're better off betting on routine cleaning, but what's the difference, anyway?


Routine cleaning is a lighter and more practical approach to ensure the most visible aspects of your cabin look flawless, just like in your pictures.

Some duties that need to be carried out include dusting, vacuuming, and mopping. It's also necessary to replace bed linen and towels regularly, as well as sanitize different surfaces such as countertops, sinks, and appliances. Cleaning the bathroom is also crucial, and requires disinfecting toilets, showers, bathtubs, mirrors, and any other necessary areas.
One thing is very important: your cleaners should have a strong focus on hair removal. Always provide them with sticky rollers and emphasize the need to be exceptionally watchful, not only for other people's hair but also their own.

Even during routine cleaning, your staff should notice if there are any missing or damaged items and double-check the supplies of amenities like plates, cups, and so on. If anything is missing, reporting is needed.



Deep cleaning, on the other hand, is the time for heavy lifting. It should happen once or twice a year and tasks include cleaning under heavy appliances and furniture, dusting all the blinds and fans, checking walls and ceilings for cobwebs, and treating the wood, among other things.
Deep cleans are a great way to keep a cabin in good condition and to prevent major issues in the long run, but they do demand a lot more effort and can cost at least three times higher than routine cleaning.

On top of that, you'll need to block your calendar for a day or two. It's better to schedule deep cleans for slower months, like January and February. If your property commands high turnover, also book dates around August and September, right before the high season.

Some property managers like to send an inspector to oversee the process, guarantee everything is performed to the best standards, and ensure your investment is well spent.


Thinking about taking care of the cleaning yourself? Think twice. You're better off investing your time elsewhere. As our rule of thumb, we bet on the trusted services of professional cleaning companies or freelance cleaners to do the job.
Cleaning is not an easy task; in fact, it's a highly complex one that requires experience and aptitude, so leave it to the pros. They are the ones with the trained eye and the skills to make sure your cabin is spotless.
Here are some ways you can find professionals:
Cleaning companies: these established cleaning services count on many well-trained cleaners and are excellent options. In general, the availability they provide and the quality of the service will give you more peace of mind. They are more expensive, though, so it's up to you to evaluate the pros and cons.


Freelance cleaners: you can always find independent cleaners. However, since you'll be doing the selection yourself, consider that anyone can offer cleaning services and that the market is saturated with unqualified people. With that in mind, always evaluate the experience and check references before making a call. Also, keep in mind that the more experienced the freelance professional is, the more they'll charge for the job.


Referrals: asking for recommendations from other hosts in your area is a smart way to find qualified professionals and a method that often brings excellent results. You can reach out to fellow cabin owners directly or make use of online tools, such as this Facebook group for cleaners in the Smoky Mountains.
Extra tip:
it can be a good idea to bring in an external group from time to time to provide a fresh perspective on the cleaning standards, especially when you are still trying to reach a good rating of 4.9 stars.
3. ENGAGE CLEANING STAFF IN OUR BUSINESS

Any cabin manager in Pigeon Forge, Sevierville, and Gatlinburg knows that the cleaning staff is a pillar of success for any rental business, as well as the best people to point out when there's something wrong — the other people to do so would be your guests but through unwanted and nasty reviews.


It's an increasingly common practice to offer bonuses to cleaning staff that are directly related to your earnings. The goal is to get them motivated with your overall success and to see the bigger picture for the results of their work.
But we understand some owners don't like this option. Luckily, there are other creative ways to reward good professionals and keep them motivated.


The important thing is to make sure your staff realizes how important they are for the bottom line and to make them feel valued and appreciated. Also, keep an open channel for them to express any issues they might face, as well as a support system to help them out when needed.
Last but not least, if you offer higher rates you can also expect higher-quality results.
Pro tip: it can be a good idea to block check-ins during major holidays like Christmas and Thanksgiving to allow your cleaning staff the time they need to spend with their families. It's a small gesture that they'll surely appreciate.



4. OFFER CONSTRUCTIVE FEEDBACK

Incorporating a feedback routine will definitely drive better results for any business, including cleaning. Detailed feedback is another way to boost morale and motivation, and to promote self-improvement. Without a doubt, this is the best way to establish a proper collaborative relationship with your team.
Yet, good communication requires active participation from both parties. Therefore, also listen to your staff and try to understand the challenges they face. Whenever possible, guide them and offer support.
Also, remember they are the experts in what they do, not you, so trust what they say. If they raise fair points, take their word for it.
Extra tip:
it's an excellent idea to have weekly meetings with your cleaning crew to discuss several topics, including how to keep improving the cleaning standards of your cabin. You might be surprised by the information they bring, which can include the most inventive cleaning hacks.
5. GIVE YOUR STAFF A HELPING HAND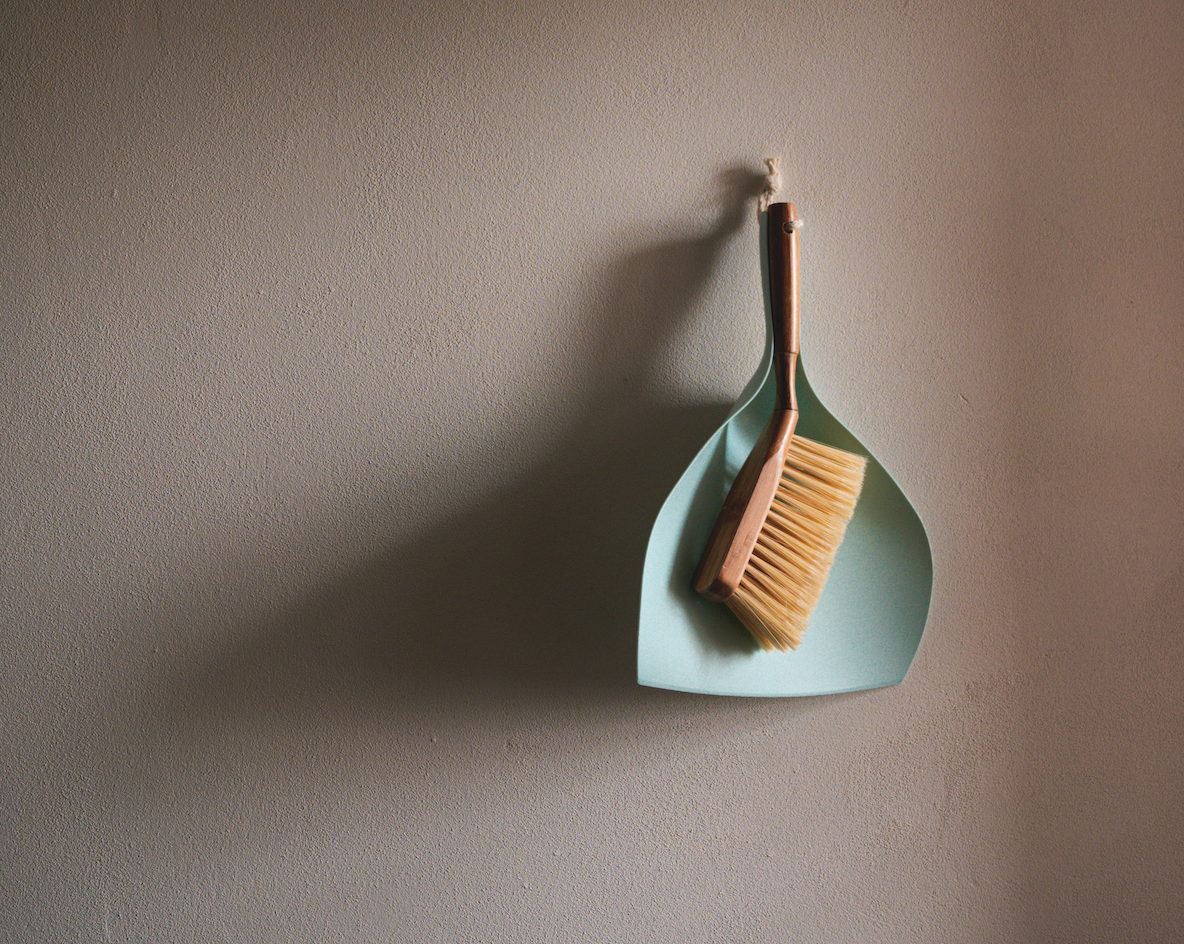 Speaking of cleaning hacks, did you know there's a way to help your staff streamline their process by involving your guests in it?
That's right. Our experience shows that by leaving cleaning supplies at hand for guests to use when they stay at your cabin, they're likely to use them. These are items like sponges, detergent pods, and even extra garbage bins so that they can clean up and remove the trash before leaving the property. Think of it as a small investment that will reduce the workload for your cleaning staff.
Another way to go about it is straight-up defining cleaning rules to be followed by guests every time before check-out, such as removing any food waste from the fridge and washing all the dishes.

Here's an idea: provide guests with a simple cleaning checklist in a polite message before they leave, and that will improve the chances of your staff finding the place in a better state. You can also ask your guests to notify you as soon as they check out, so you can immediately let your cleaners know the cabin is ready for them to work their magic. Most of them will appreciate being able to speed up their cleaning schedule.



6. Create task lists & cleaning guides

In this era of AI, it is important not to forget that we are still working with human beings. Your cleaning staff are not machines and may sometimes make mistakes or miss certain spots. To avoid such situations, it is helpful to provide them with task lists and guidelines that clearly outline your expectations regarding how you want the space to be cleaned. This will help them focus on any crucial areas that need special attention and ensure that nothing is overlooked.
Checklists and guidelines can delineate a specific order or cleaning routine, and they should outline all the mandatory steps cleaners should complete between check-outs and check-ins.
It's a good idea to create separate checklists. One list for small things that often go overlooked, such as wiping inside the fridges, and microwaves, and removing strands of hair from shower drains. The other list can include more complex tasks. Regarding those, it also helps to include photographs and visual instructions to eliminate margins for error. Nowadays, with online guides, you can even include links for videos. Like everyone else, cleaners usually perform their jobs armed with their smartphones.

Extra tip: oftentimes, cleaners come from other countries. If you want to make their lives easier and truly make them feel valued, consider providing instructions in their mother tongue.

Be aware: some guests may try to scam refunds at the expense of your cleaners. A classic way they go about it is by claiming they found dirty tubs. That's why we recommend cleaners take photos of the empty tubs after they clean them. Since it's easy to check the date of a digital photograph, you can use it as proof if any problem arises. There are even apps that were designed with these solutions in mind, such as Solocator.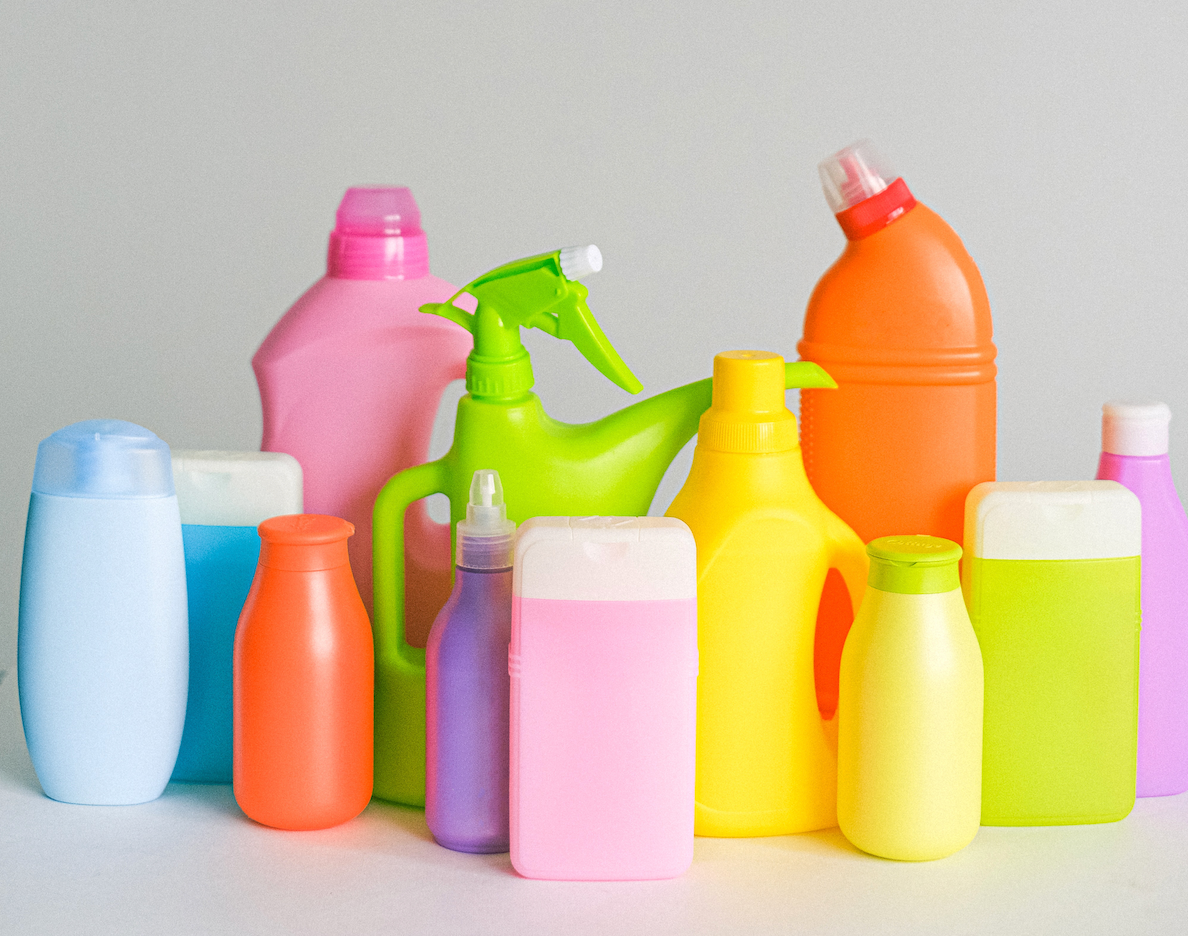 Rental cabins demand a lot more cleaning than a regular household, which means you'll need to buy a lot more cleaning products. Besides, it's always good to keep these products at hand so you don't risk running out when they're needed.
A great idea is to buy them in bulk, at discounted prices, to save time and money. Some websites will even save your info and let you reorder the same products again when the time comes with a simple click.
Having a stock full of cleaning products also means you can promptly react to any cleaning needs that might arise when your guests are at your cabin. As you know, being fast at solving problems always earns you good points and positive reviews.



8. Make preventive maintenance a thing

Beyond cleaning, maintenance is also crucial to keep your cabin in good shape. Consider taking the path of preventive maintenance instead of reactive maintenance. This means a proactive attitude with regular inspections and repairs that take care of potential issues before they happen and become major and costly problems.
This approach ranges from basic things, such as changing the batteries of smart locks, remote controls, and smoke detectors, and checking light bulbs to scheduling dates for professional inspections in your cabin, such as checking the roof, the HVAC system, and undertaking pest control.
A yearly fire safety inspection is also a must to ensure all equipment is in order. Preventive maintenance is also about safety for you and your guests.




It might seem weird for some to think of technology as a way to help with cleaning processes. However, as cabin managers in Pigeon Forge, Sevierville, and Gatlinburg know very well, there are many solutions to ensure efficiency. For one, most Property Management Systems (PMS) include interfaces for cleaners to check schedules.
By using task management tools, you can schedule reminders for crucial maintenance and upkeep activities, and you have the option to select fixed intervals or set an alarm for a specific number of guest stays.
Moreover, you can find tech-infused help for other needs like sourcing talented cleaners, managing schedules, defining tasks, and communicating with the workforce.
Here are a few helpful platforms:
Extra tip:
it makes sense to have your cleaning management system tied directly to your calendar system and to have a user-friendly mechanism for cleaning staff to stay in the loop. You can even take a step further and implement a direct communication system that they can access through their phones — anything that makes their life easier will also make your life easier.
Need an extra hand managing cleaning and maintenance?

It can be overwhelming to oversee and manage cleaning and maintenance yourself, especially when you're dealing with a higher number of cabins. You can always trust professional property managers like us with a helping hand.
We at Stony Brook have a network of long-established cleaning and repairing crews spanning Pigeon Forge, Sevierville, and Gatlinburg, as well as years of experience in keeping cabins in top-notch conditions for guests. As a result, stellar reviews tend to roll in for cleanliness, as well as for everything else.

Send us your suggestions on future blog topics. As a cabin management company in the Smoky Mountains, we are always eager to share our knowledge with other cabin owners. Reach out to us through the contact form below.