The Smoky Mountains, an enchanting natural wonderland, have long held their place as one of America's most beloved vacation destinations. With its lush forests, breathtaking mountain vistas, and a rich cultural heritage, the allure of the Smokies is undeniable. Whether you're an outdoor enthusiast, a history buff, or simply seeking a serene escape, the Smoky Mountains offer a captivating experience. But what makes this destination even more extraordinary is the opportunity to share it with a group of family or friends. Large cabin rentals in the Smoky Mountains have become a popular choice for group travel, providing the perfect blend of space, comfort, and amenities to enhance your mountain adventure. In this blog, we'll delve into the unparalleled appeal of the Smoky Mountains, explore the benefits of large cabin rentals, and guide you through two fantastic destinations within the Smokies: Gatlinburg and Pigeon Forge. Get ready to embark on a journey to the heart of the Smoky Mountains, where natural beauty, outdoor adventures, and unforgettable memories await.
THE APPEAL OF THE SMOKY MOUNTAINS
The Smoky Mountains, straddling the border of North Carolina and Tennessee, are a treasure trove of natural beauty and wonder. The crown jewel of this region is the Great Smoky Mountains National Park, a UNESCO World Heritage Site and the most visited national park in the United States. Its vast expanse of old-growth forests, cascading waterfalls, and diverse wildlife offers endless opportunities for exploration and connection with nature. Whether you're hiking the scenic trails, driving the picturesque Roaring Fork Motor Nature Trail, or simply breathing in the crisp mountain air, the park's enchanting allure is undeniable. Beyond its natural wonders, the Smoky Mountains also boast a rich cultural heritage, with historic homesteads, Appalachian traditions, and vibrant arts and crafts communities waiting to be discovered.
Great Smoky Mountains National Park: As the most-visited national park in the United States, this park offers breathtaking vistas, hiking trails, wildlife viewing, and the opportunity to experience the beauty of the Appalachian Mountains.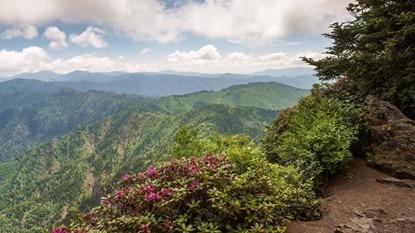 Gatlinburg SkyLift Park: This attraction features the iconic SkyBridge, the longest pedestrian suspension bridge in North America. Visitors can enjoy stunning views of the Smoky Mountains from this vantage point.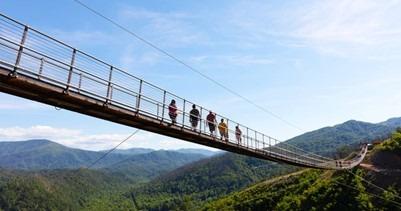 Ober Gatlinburg: Ober Gatlinburg is a mountain-top amusement park and ski area that offers a wide range of activities year-round. Visitors can enjoy ice skating, a scenic aerial tramway, wildlife encounters at the Wildlife Encounter exhibit, and thrilling rides. In the winter, it's a popular destination for skiing and snowboarding, while in the summer, you can experience the Alpine Slide and enjoy the scenic beauty of the area.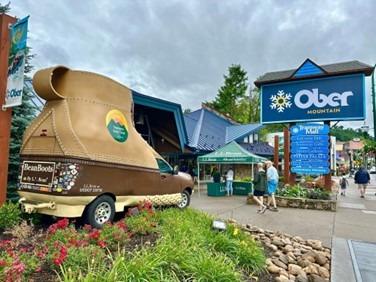 Clingmans Dome: Hike or drive to the highest point in the Smoky Mountains for panoramic views. The Clingmans Dome Observation Tower provides a spectacular vantage point to take in the surrounding scenery.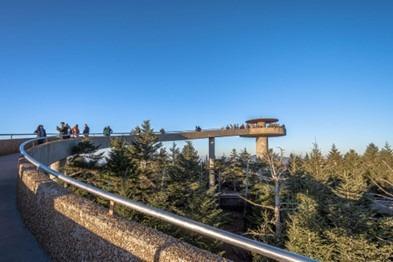 Cades Cove: This beautiful valley offers wildlife viewing opportunities and a scenic 11-mile loop road. It's a great spot for observing deer, black bears, and other wildlife, as well as exploring historic buildings.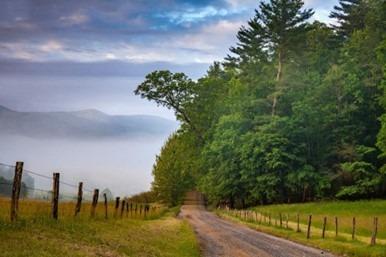 These attractions offer a diverse range of experiences, from natural beauty and outdoor adventure to family-friendly entertainment and educational opportunities, making the Smoky Mountains near Gatlinburg a fantastic destination for visitors of all interests.
CABIN RENTALS FOR LARGE GROUPS AND FAMILY REUNIONS
When it comes to accommodating large groups or hosting a family reunion in the Smoky Mountains, cabin rentals emerge as the ultimate choice. Our spacious and well-appointed cabins provide a level of comfort and togetherness that is unmatched by traditional lodging options. Perhaps one of the most enticing aspects of cabin rentals in the Smoky Mountains is the privacy and seclusion they afford. Enjoy the breathtaking mountain views and the serenity of nature while still being within easy reach of the area's attractions. Sleeping as many as 88 guests, our 8+ bedroom cabins in Gatlinburg are the ideal place to stay for groups visiting the Smoky Mountains. Whether you're planning a retreat, a family reunion, or just a getaway with friends, we have the perfect cabin for your stay.
Spacious and Comfort: Smoky Mountain cabins designed for large groups typically offer generous square footage. These cabins may feature multiple levels, ensuring there's ample room for everyone to spread out comfortably.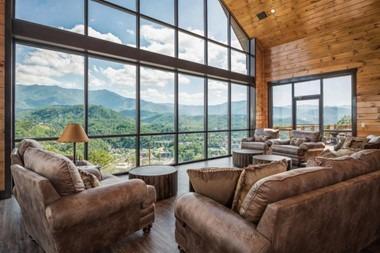 Private Bedrooms and Bathrooms: Large cabins often include multiple bedrooms and bathrooms. This provides individuals or families within the group with their own private spaces, ensuring everyone has a level of comfort and privacy.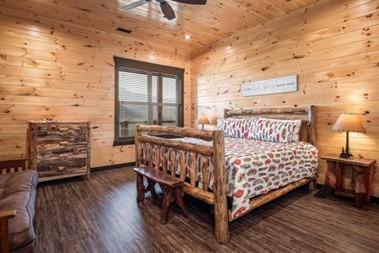 Fully Equipped Kitchens: In these cabins, you'll find fully equipped kitchens with modern appliances and ample counter space. This facilitates meal preparation and allows groups to dine in style without the need for eating out every night.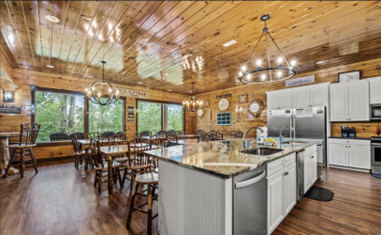 Enticing Amenities: Large Smoky Mountain cabins often go above and beyond with amenities. Private hot tubs offer relaxation with a stunning mountain view, cozy fireplaces provide warmth and ambiance, game rooms offer entertainment for all ages, and home theaters allow for movie nights or presentations.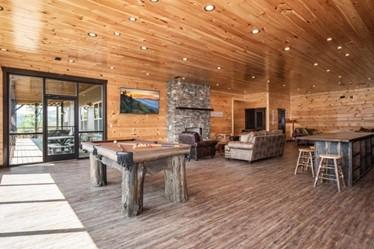 Seclusion and Privacy: One of the unique aspects of these cabins is the sense of seclusion they provide. Nestled in the Smoky Mountains, they offer a peaceful retreat away from the hustle and bustle of city life. Guests can relish the tranquility and privacy while still being within reach of the natural beauty and outdoor activities the area offers.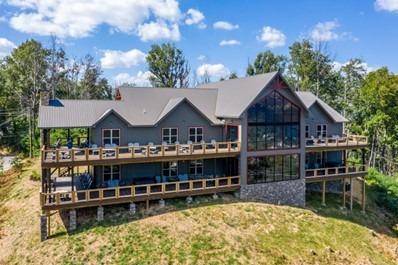 Proximity to Attractions: Despite the sense of seclusion, these cabins are strategically located near popular attractions in the Smoky Mountains. This means that your group can easily access hiking trails, scenic overlooks, national parks, and local towns for dining and shopping, ensuring a well-rounded experience.
.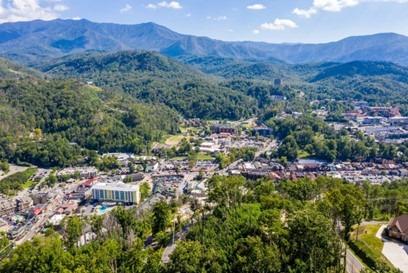 Planning Your Stay: Start by determining the appropriate cabin size to comfortably accommodate your group, pick dates that work for everyone, delve into cabin research, secure your booking early to ensure peace of mind, craft an itinerary filled with exciting activities, stock up on groceries for communal meals, confirm all check-in details for a stress-free arrival, prioritize safety during your adventures, show consideration for cabin guidelines, and embrace the prospect of creating lasting vacation memories. To make the trip more budget-friendly for your group, consider splitting costs, which can significantly reduce the overall expense and make the experience even more enjoyable.
LARGE GATLINBURG CABINS WITH INDOOR POOLS
Gatlinburg, Tennessee, nestled at the entrance to the Great Smoky Mountains National Park, is an ideal destination for those seeking proximity to the park's attractions and a variety of cabin options. Many of our large cabins in Gatlinburg come with private indoor pools, providing year-round entertainment and relaxation. Imagine taking a dip in your private pool while surrounded by the beauty of the mountains. It's a unique experience that adds a touch of luxury to your Smoky Mountains getaway.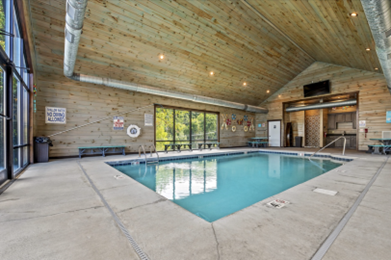 LARGE GROUP CABINS IN PIGEON FORGE, TN
Pigeon Forge, Tennessee, is another fantastic destination within the Smoky Mountains. Known for its entertainment options and family-friendly attractions, Pigeon Forge offers an exciting blend of shows, shopping, and outdoor adventures. Many large group cabins in Pigeon Forge provide easy access to these attractions while ensuring a peaceful and comfortable retreat for your group. It's the perfect combination of entertainment and relaxation, making it an excellent choice for family reunions and group getaways. We've compiled a list of the top 7 main attractions you don't want to miss:
Dollywood:

This theme park, with its roller coasters, live entertainment, and Dolly Parton's personal touch, is the top attraction in Pigeon Forge.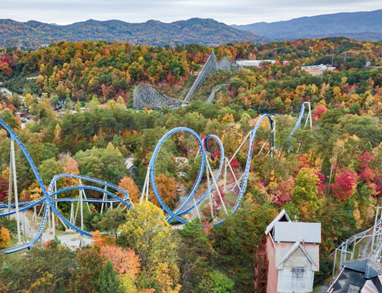 The Island in Pigeon Forge: This entertainment complex features The Great Smoky Mountain Wheel, shopping, dining, and live entertainment, making it a central hub for visitors.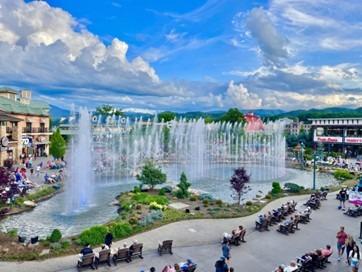 Titanic Museum: An immersive museum experience that offers a glimpse into the history of the Titanic, complete with interactive exhibits and artifacts.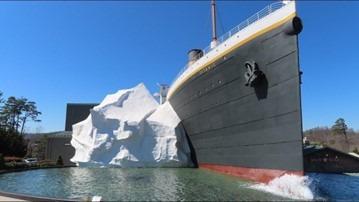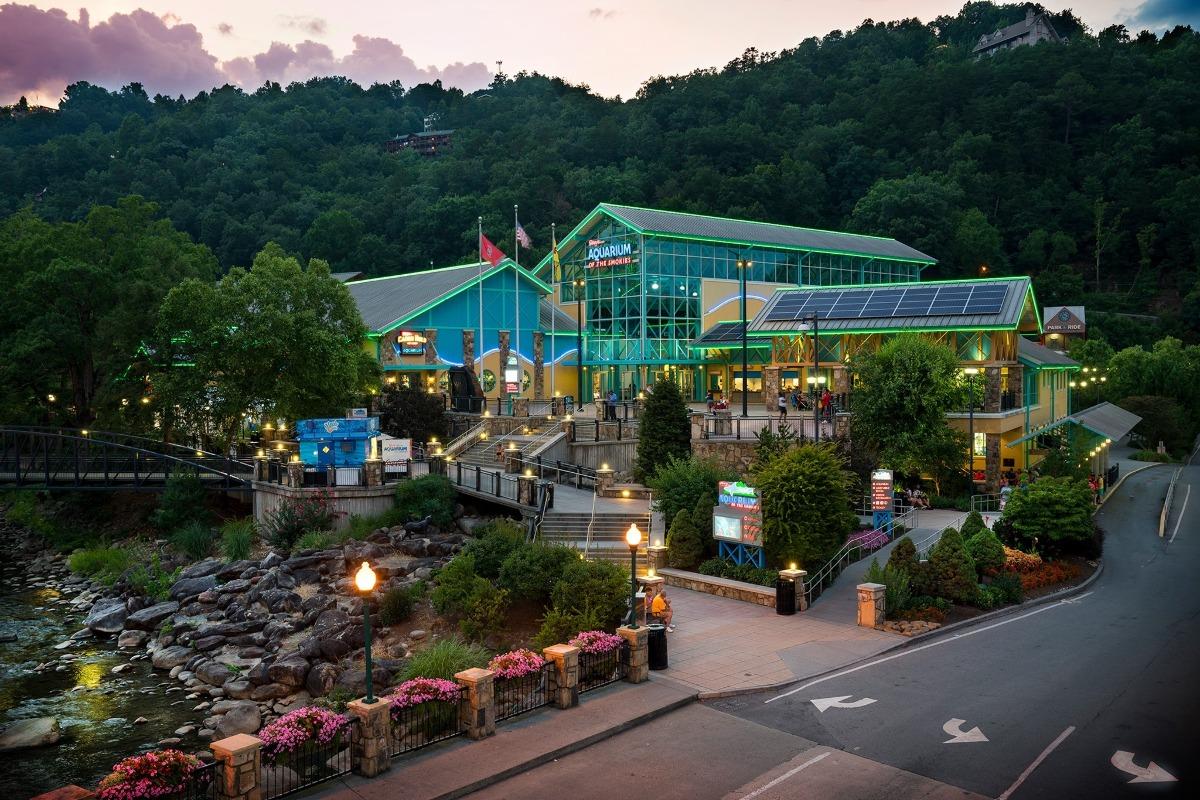 WonderWorks: This science-oriented amusement park with hands-on exhibits and interactive attractions is perfect for families and curious minds.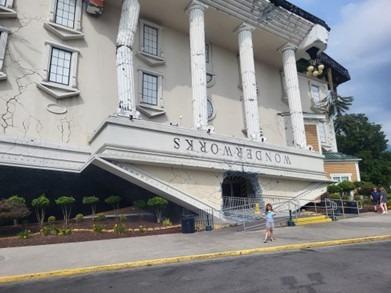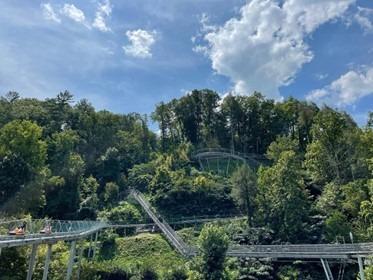 These top 6 attractions offer a mix of entertainment, natural beauty, and educational experiences, making Pigeon Forge a fantastic destination for a variety of interests.
TESTIMONIALS AND REVIEWS
Real-life experiences from travelers who have stayed in large cabins in the Smoky Mountains can offer valuable insights into the benefits of this unique vacation option. Reading about the positive aspects and memorable moments from these reviews can inspire and inform your own group adventure. We encourage you to share your own experiences as well, as your insights can help others plan their perfect Smoky Mountains getaway. Here are some of our customer testimonials.
Perfect Experience: "We've used several rentals for our retreats for 30-40 people and this was the smoothest experience yet! Great communication even after we checked in to make sure everything went well. Would definitely recommend for larger groups. Great proximity to the Main Street area where all the fun stuff is."
Beautiful view, cabin perfect size for 3-4 families: "The absolute perfect place to stay with 3-4 families with plenty of room to spread out & enjoy the open space on all three floors. Very clean. Enjoyed the amenities of media room, pool table, shuffle board, & arcades. Comfortable beds. Would definitely stay here again & recommend."
The best family vacation!: "We had a group of 20 people staying here over the weekend, the space was large and everyone was more than comfortable! The pool and hot tub were amazing. It was very clean, and the interior was gorgeous. Incredibly close to pigeon forge as well!"
Best View In Gatlinburg By Far: "I take my large family to the mountains every year. (35 ppl) This cabin might be our fav of all of them. - BIG view of Mt LaConte. I mean BIG. - Huge cabin with plenty of room and big kitchen. - Great location - Lots of BEARS. It takes a little getting used to; but it's a highlight to see them roam by. - The company that owns it is very personable, very fast to fix the little things that always come up, and easy to work with. - And I'll mention the HUGE parking lot with plent of room for all your vehicles and plenty of room for your kids to ride bikes and scooters safely. If you've got a crowd, this is your place!"
Awesome view and perfect for large groups: "The view in this place is incredible (although the road to get there will make you pay attention). This place was so perfect for our large group of 72 people. There were 2 large areas for our worship services ( living room and den). We will rent it again!
STONY BROOK OFFERS THE BEST LARGE CABIN RENTALS IN THE SMOKY MOUNTAINS
When it comes to choosing the perfect accommodation for your vacation in the Smoky Mountains, Stony Brook Cabins should be at the top of your list. Our cabins offer a remarkable combination of comfort, space, and serenity, perfectly encapsulating the benefits of large cabin rentals in this stunning region. With spacious interiors, private bedrooms and bathrooms, and an array of enticing amenities such as hot tubs, fireplaces, game rooms, and home theaters, our cabins ensure that every member of your group experiences the ultimate relaxation and togetherness.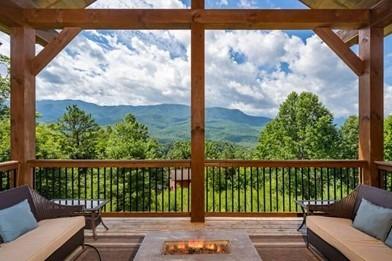 We wholeheartedly recommend that you consider planning a trip to the Smoky Mountains and indulge in this one-of-a-kind vacation experience. Whether you're seeking outdoor adventure, natural beauty, or simply a tranquil escape from the hustle and bustle of daily life, the Smoky Mountains provide an ideal setting. It's a place where you can reconnect with nature, bond with loved ones, and rejuvenate your spirit. Don't miss the chance to experience the majesty of this destination.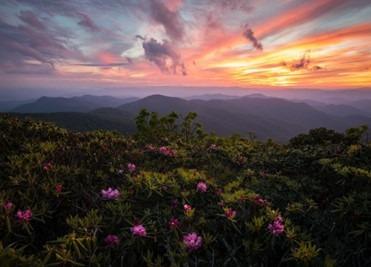 Book your stay with Stony Brook Cabins today, and embark on a memorable journey filled with breathtaking views and unforgettable moments. Your Smoky Mountain adventure awaits!