Whether you're taking your first steps in the rental cabin business or adding units to your inventory, there is a seemingly endless list of tasks to perform.

From establishing a cleaning routine to dealing with guests and planning marketing strategies, the level of detail can be pretty overwhelming. Many cabin owners have a tough time figuring out where to begin and nailing down what should come first.

As long-time cabin managers in the Smoky Mountains, we've helped countless owners with setting up. We know just how things roll, what the priorities are, and what processes to put in place — and we're not shy about sharing our knowledge.

Grab your pen and paper, because we're about to give you a crash course on ten essentials for running a rental cabin business in Pigeon Forge, Gatlinburg, and Sevierville.

TLDR
Considering your startup costs.

Investing in decor and design.

Offering amenities and entertainment.

Distinguishing types of cleaning and valuing your staff.

Maintaining and caring for your cabin.

Investing in high-quality photos.

Promoting and listing your cabin.

Managing revenue optimization.

Dealing with guests.

Don't take things personally.


1. Considering your startup costs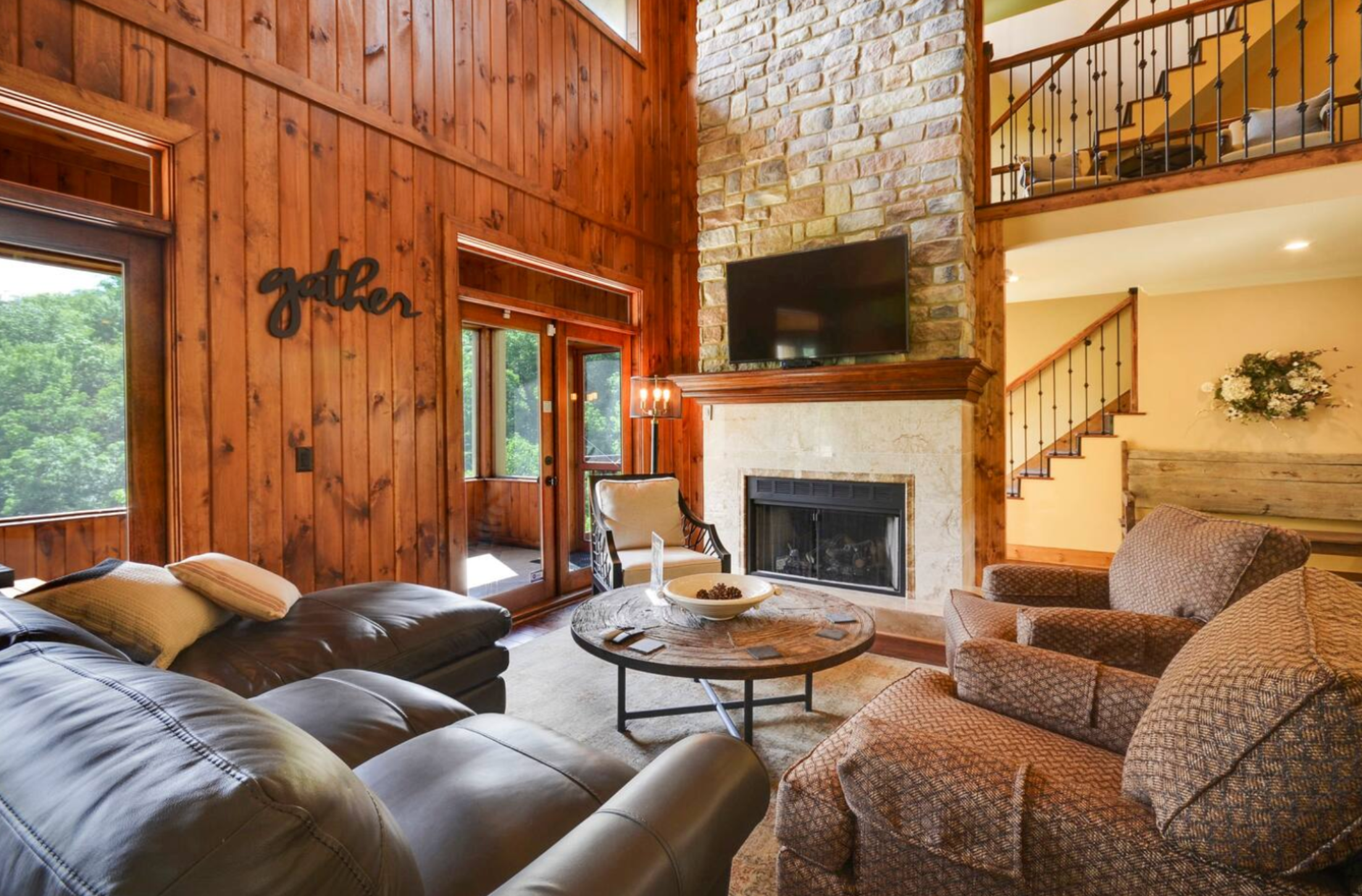 Decor and furniture are examples of one-time costs you need to factor in as an investment when setting up a new cabin. Photo: Mossy Brook Lodge.
Let's start with something every cabin owner has to deal with: costs. When you're starting, it's important to estimate costs and plan ahead.
There are two types to have in mind:
One-time costs: these are the costs that you need to cover upfront. Generally speaking, they include renovations and repairs, decor and furniture, amenities, and taking high-quality photos of your property.

Fixed and variable costs: also known as ongoing or operating costs, these are the expenses you need to cover regularly once your short-term rental is running. These costs can be similar to the ones you have in your home, like paying utility bills and internet services. Still, there are some specifics to short-term rentals, too, such as management, marketing, and cleaning staff payroll.
Both one-time and fixed costs vary depending on the type and size of your property and your target audience. For instance, you will have fewer costs decorating a one-bedroom cabin than an eight-bedroom property. Some of these costs will also vary with demand. You won't need as much cleaning or supply replenishment if you're not getting too many guests staying at your cabin.
It's also good to know that most cabin owners experience a few months of negative revenue before being able to pay for these costs. This is normal for any startup business and, in the long run, it's just what they say: "If you watch the costs, the profits will take care of themselves."
2. Investing in decor and design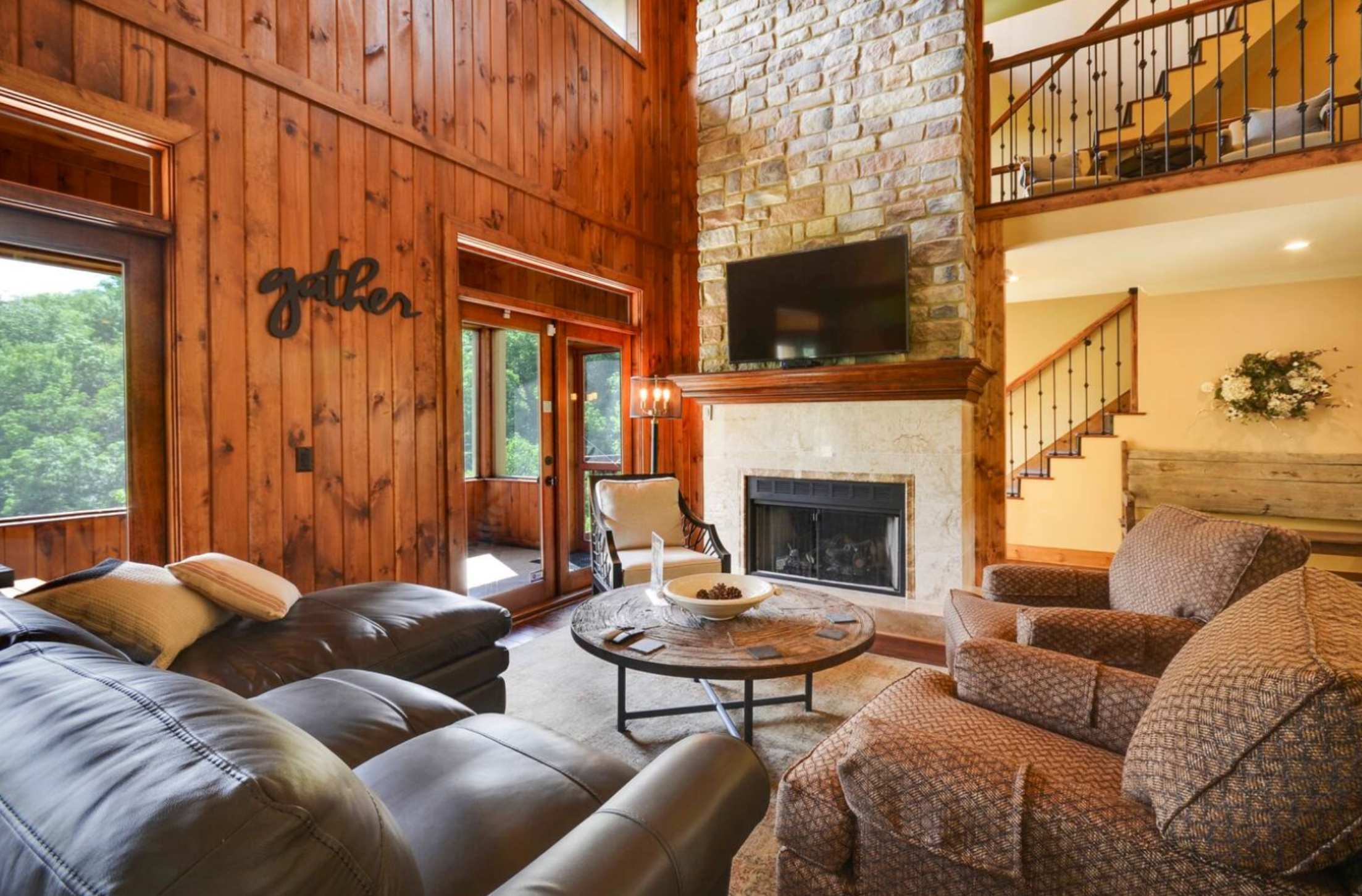 A well-decorated rental will invariably perform better than one that offers the same comfort but without an alluring design. Photo: Mountain Soul.



We have already discussed design tips in depth in another blog, but it's always worth a reminder that good décor is not about buying expensive furniture, but more about finding the right furniture mix, composition, and lighting scheme as well as infusing your space with touches of greenery.


Also, since we brought up uniqueness, it's a smart move to tell a story with your cabin to touch your guests on an emotional level. You can do so by giving it a theme that relates to your surroundings and local culture. Pick arts and crafts made locally. For instance, quilts, pottery, wood pieces, and basketry fit cabins in the Smokies very well, as do any nods to mountain and outdoor lifestyles.


3. Offering amenities and entertainment


With so much supply in our cabin space, a cabin needs to rise above the noise to be successful. The bigger your cabin gets, the more outstanding amenities it deserves. Photos: Aqua Dreamin Retreat.


Good decor is great, but to stand out you must create a truly unique experience for your guests. Investing in a good selection of high-quality amenities and entertainment options for your cabin is a brilliant strategy that will not just get you more bookings but also give you more leeway to increase your nightly rates.

Making sure your guests have the best time is a major part of hosting. Stuff like board games, puzzles, and playing cards usually get you some great reviews. But if you really want to win people over, setting up cool hangout spots like a cinema room with a Smart TV and streaming gadgets like Roku is the way to go

With amenities, the goal is to create and add that "wow" element. At Stony Brook, we find it very useful to follow a logic by cabin size. Here's how it goes:


One-bedroom: have at least a hot tub.



Two or three bedrooms: have at least one entertainment feature. Pool tables and arcade machines are great ideas.



Three and four-bedrooms: have two or three entertainment features. Besides the ones mentioned above, air hockey and foosball tables are usually great additions.



Over four bedrooms: that's when things get interesting. You can invest in a media room, a game room, or both.


If your cabins are larger, consider incorporating additional amenities. What about an indoor pool? Two fire pits, not one? A cinema room that doubles as a karaoke stage? You get the picture.
4. Distinguishing types of cleaning and valuing your staff

Cleanliness is one of the top factors influencing guest satisfaction and reviews. As professional property managers in the Smokies, we make it an absolute priority to keep our cabins spotless.

Yet, we know a deep clean is very time-consuming and costly to perform every time a guest checks out. That's why we recommend you distinguish two types of cleaning for your cabin.



Routine cleaning: this is a lighter and more practical process focusing on the most visible issues, like changing linens and towels, and wiping down surfaces. The goal is for the room to look perfect, just like in your pictures.


Deep cleaning: this is the time for cleaning under heavy appliances and furniture, dusting all the blinds and fans, checking all walls and ceilings for cobwebs, treating the wood, and flushing and cleaning the jacuzzi, among other things. We recommend it at least once a year, but if your turnover is high, you might do it twice.

Rental properties typically require more cleaning than regular homes, making it a good idea to invest in high-quality equipment that can last longer. Buying cleaning supplies in bulk is also an excellent way to save you both money and time.
Also, word of advice: knowing the value of your cleaning staff is essential for success. You can think of them as the pillars of your business and your best allies to identify anything wrong with your property (without leaving a review, that is).
5. Maintaining and caring for your cabin

Just as with cleaning, maintaining your cabin in good condition is another factor that contributes to good reviews and higher revenues.

Once more, your cleaning staff are your best allies to point out any damages and problems and give you a heads up when something needs maintenance.
A rental cabin requires more maintenance than a regular home, and it's a good idea to visit the property yourself from time to time or have someone you trust inspect the place, like a property manager.
Overlooking minor maintenance problems can lead to bigger problems and costs down the line. In other words, catch it while it's fresh. Moreover, some owners like to set aside 5% of their total income for care and maintenance, to be ready in case something pops up at the last minute.


6. Investing in high-quality photos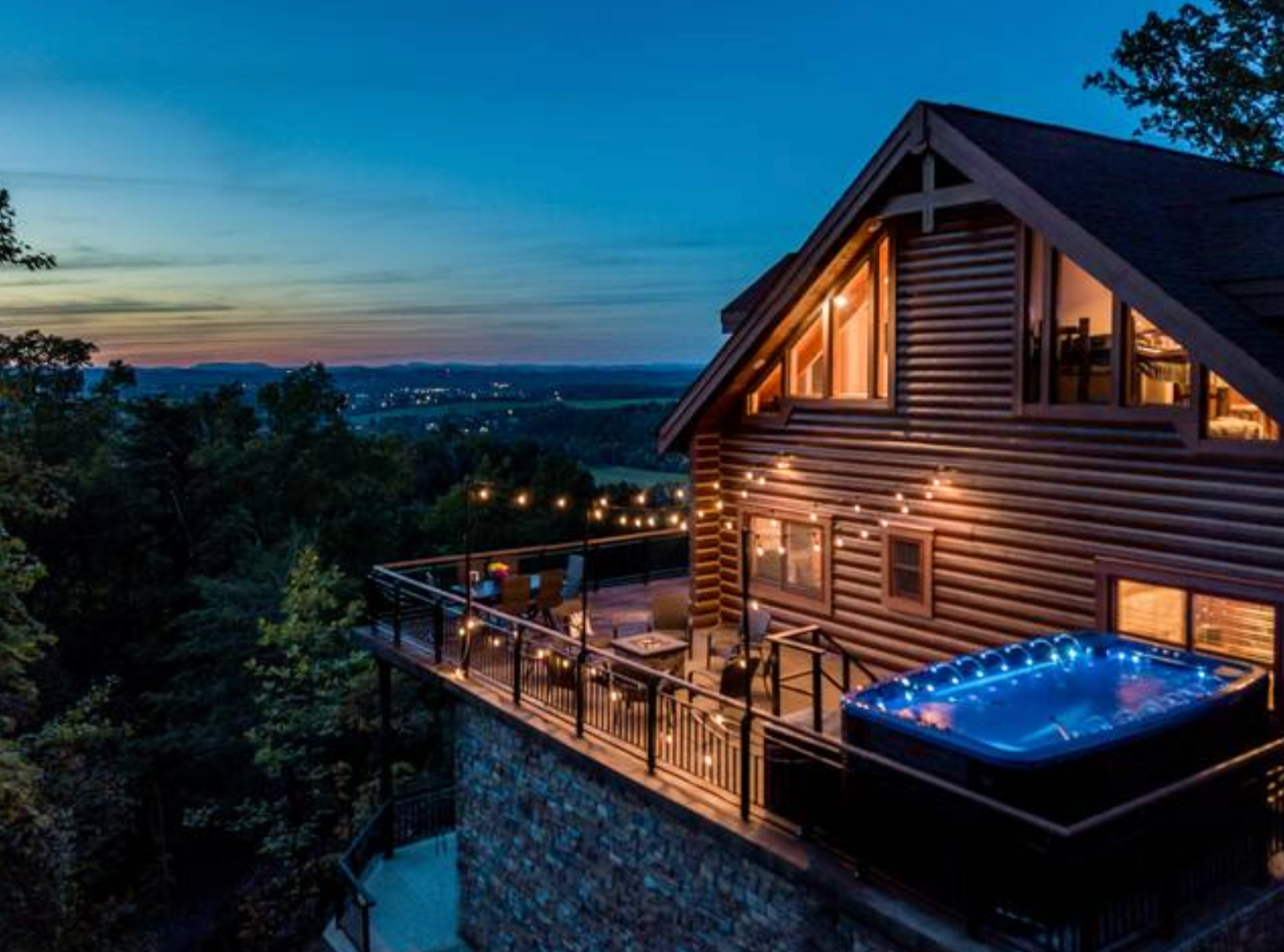 Great photos will make you stand out in the eyes of potential guests. While phone cameras can produce impressive results, we say trust the pros. Photo: Tanglewood Mountain Lodge.



Photography is an important one-time investment that should not be overlooked. While some cabin owners might be tempted to handle it themselves using smartphones, we always advise leaving it to the professionals.

Professional photographers excel at managing elements such as lighting, focus, angles, and a multitude of other details, ensuring that your property is showcased in the best possible light. Moreover, their professional lenses can seriously enhance the visual appeal of any cabin.

That's why we emphasize the importance of allocating a bit extra in your budget to hire a professional photographer. In today's highly competitive market, exceptional photographs will make you stand out, and the stats speak for themselves: they can boost your nightly rates by over 50%.

You should always aim at having great photos, but they should also be authentic. Selling something that you can't offer only leads to disappointed guests and bad reviews. Before uploading your pictures, as yourself: are they an accurate representation of your cabin in its current state?


7. Promoting and listing your cabin

Taking control of your marketing can grant you independence from major OTAs and contribute to brand building. Photos: website and email campaign of Stony Brook.

It's a fact that OTAs dominate online rental searches. For this reason, it makes total sense to put your marketing efforts in their hands — at least in the beginning.
However, as your cabin inventory expands, things can change: it's a good practice to carve out your brand identity and gain some independence from the giants (and from their hefty commission fees).

Having your own website is one way to open the door to direct bookings. Here's how you can drive traffic to it:
Social media: connect with guests on the platforms they check daily. Social media marketing is a budget-friendly bet compared to old-school ads. Your picture-perfect posts, photos, and videos should flaunt your property and its amenities.



Guest database: collecting guest info with each stay is a marketing treasure, so use it! Build a client database by tapping into data from past guests and work your marketing magic to get them to return and refer your cabin to their family and friends.



Email campaigns: with your guest list in hand, you can share updates and exclusive deals by email to keep them hooked. Just remember, don't flood their inbox.



Blogging: you can share your local wisdom through blogs in a way to lure bookings. Blogs are also great for SEO, but they're a time investment that's better suited for businesses with many properties.


8. Managing revenue optimization

Success in this business is linked to getting your price right — and keeping it right.

To set your base nightly rate, calculate your expenses, considering both major and minor costs, and incorporate your desired profit margin on top of that.

Once you arrive at a number, compare your cabin with your competition and put yourself in the shoes of a potential guest: how would you perceive the price if you weren't the owner?

There's more to it, though. Ongoing revenue management is essential for any cabin owner's success, and embracing a dynamic pricing strategy is the way to go. This means adjusting fees based on your guests' willingness to pay at any point in time.

The good news is that there are many technology-driven solutions available in the market to assist you in overseeing dynamic pricing. Here's how they can help:


Adjusting rates based on actual demand and occupancy around you.

Finding the best price and optimal length of stay during high and low seasons.

Taking care of booking gaps for you.

Identifying mega events in your area.

Taking care of orphan days.

Handling last-minute cancellations to get you rebooked.


Here are three platforms we can recommend:


Beyond (formerly known as Beyond Pricing): very user-friendly option and good for those seeking a "set it and forget" approach.


PriceLabs: very flexible for customization options and integration with other systems.


Wheelhouse: also good for integration options, but not for the "set it and forget" strategy.


Property managers are also very apt to help you with ongoing revenue management. At Stony Brook, we're equipped to aid you in navigating these complexities with a dedicated full-time revenue optimization manager. If you want to know some of her professional insights on the topic, take a look at this blog (LINK) where we deep dive into the topic of revenue management.



As a host, it is important to establish a meaningful relationship with your guests. After they book your cabin, it's in your hands to provide a great experience and meet their expectations.
As we said before, it helps to provide accurate and realistic descriptions of your rental, as well as high-quality photos. Communication is also key. Try to be available to answer any questions or resolve issues that may arise. Besides, sending well-written guidebooks and home manuals to guests can help ensure a good stay.
10. Don't take things personally

Any host will eventually deal with messy guests, broken items, or, at the very least, bad reviews. Still, never take things personally. Easier said than done, we know...
Even though we understand you are attached to your cabin, remember that this is a tool to make money, not your personal home. Therefore, dealing with some unruly guests is normal in this game.
The good news is that it doesn't happen as often as you might think. Most guests you'll receive will likely be wonderful people just wishing to have a good time with their loved ones in a nice cabin. At the end of the day, you should do your best to help them achieve their goal.


A Crash Course With 10 Things You Should Know As a New Cabin Owner

We're positive that if you put in the effort and prioritize your guests' well-being, hosting can be a profitable venture for you. It may not always be easy, but with determination and the right strategy, the rewards are sure to come.
Feel free to reach out to us if you have any specific questions and for recommendations on themes for our next blogs. Just drop us a line through the contact form below. Until then, happy hosting!