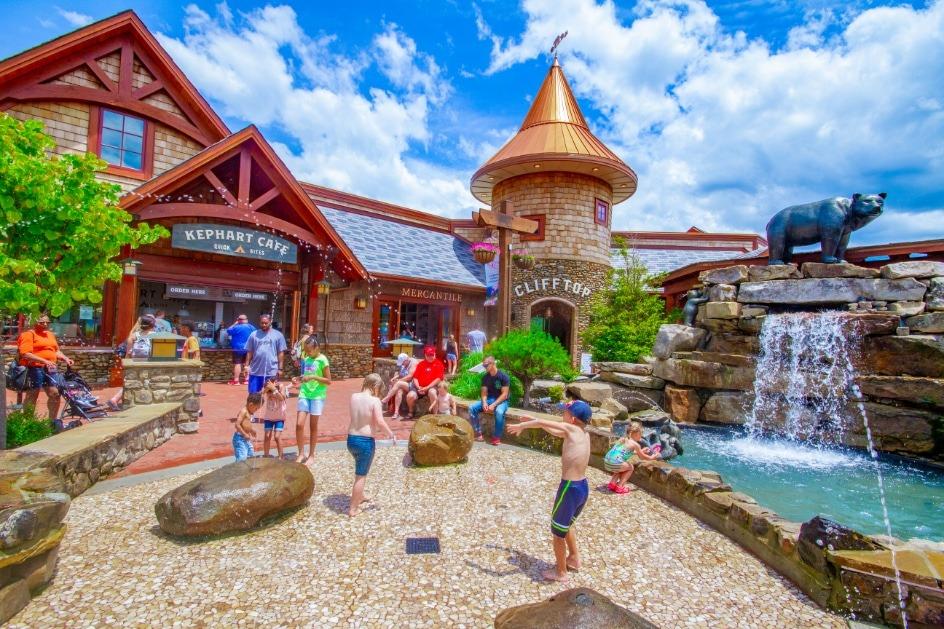 If you're gearing up for a memorable family getaway to the enchanting Smoky Mountains, an absolute must on your itinerary is a visit to the whimsical Anakeesta mountaintop theme park. Nestled amidst the breathtaking natural beauty of the Smokies, Anakeesta offers a plethora of activities that are tailor-made for children. Your little ones will be in for the adventure of a lifetime as they explore the park's diverse attractions, from gem mining to an enthralling treehouse play area. To begin your Anakeesta journey, embark on a magical Chondola or Ridge Rambler ride to the summit, where the enchanting Firefly Village will welcome you. But what are the top 5 fun activities at Anakeesta that your kids are bound to adore? Let's delve into the details:
1. TreeVenture Challenge Course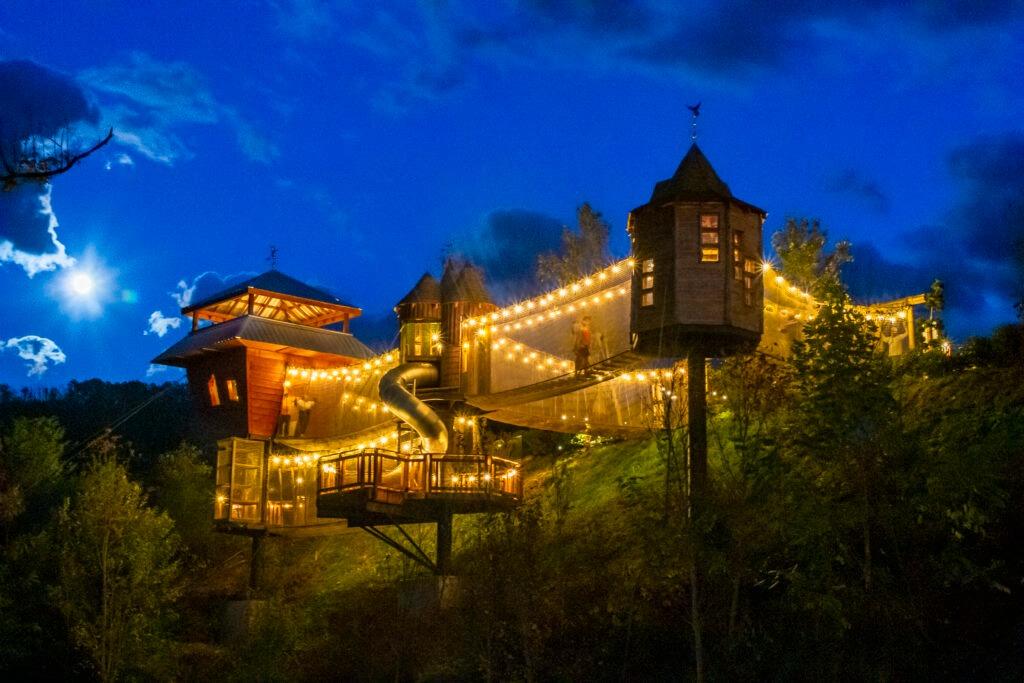 The TreeVenture Challenge Course at Anakeesta is undoubtedly one of the premier attractions for families visiting this mountaintop wonderland. This exhilarating adventure course is tailor-made for kids, ensuring an unforgettable experience that will be etched into their memories for years to come.
Set against the stunning backdrop of the Smoky Mountains, the TreeVenture Challenge Course offers not just one, but three distinct levels of outdoor fun and imaginative play. Each level features a captivating treehouse that introduces unique and exciting challenges for young explorers.
As your children ascend through this multi-tiered playground suspended amidst the lush treetops, they will encounter not one, not two, but a whopping six netted bridges that add an extra layer of thrill to their journey. These bridges, swaying gently in the mountain breeze, provide the perfect opportunity for kids to test their balance and coordination as they venture from one treehouse to another.
The highlight of the TreeVenture Challenge Course, without a doubt, is the heart-pounding slide that spirals its way down to the lower level. The joy of sliding down this curving chute surrounded by the beauty of the mountains is something your kids will treasure.
Climbing, swinging, and crawling—there are endless possibilities for adventure on this course. Whether your little ones are budding mountaineers or seeking an immersive and imaginative play experience, the TreeVenture Challenge Course has it all.
It's more than just a playtime activity; it's an opportunity for children to develop their physical skills, problem-solving abilities, and self-confidence in an enchanting natural setting. Anakeesta understands that every child's sense of adventure is unique, and this course has been thoughtfully designed to cater to the diverse interests and abilities of kids of all ages.
2. Rail Runner Mountain Coaster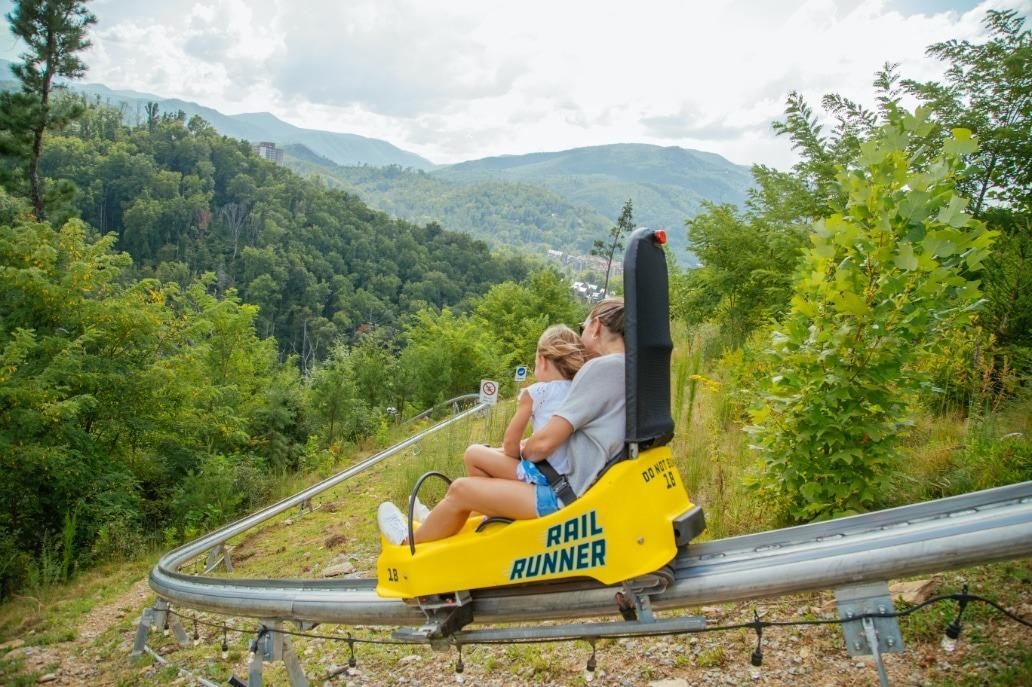 The Rail Runner Mountain Coaster at Anakeesta is a true marvel of modern amusement park engineering and a fantastic addition to the United States' ride offerings. Unlike any other coaster you've experienced, the Rail Runner sets itself apart with its innovative single-rail track design. This unique feature not only guarantees a thrilling adventure but also places control of your coaster journey right in your hands.
As you embark on your Rail Runner adventure, you'll quickly discover that it shares some similarities with traditional roller coasters. However, the key difference lies in the level of control you have over the ride experience. Imagine hurtling down a 1,600-foot-long track, navigating a series of exhilarating downhill twists, all while being able to regulate your speed. Yes, that's right, you are the master of your own coaster destiny.
For families with children, the Rail Runner offers an exceptional and memorable experience. Young adventurers aged seven years and older, measuring at least 48 inches in height, have the opportunity to ride alone as a single rider, granting them a sense of independence and autonomy. It's a chance for kids to feel like they're taking the wheel, steering their coaster car through the twists and turns of the Smoky Mountains.
If your children are between three and seven years of age and meet the minimum height requirement of 38 inches, they can still partake in this thrilling adventure. The Rail Runner ensures family inclusivity by allowing younger kids to ride tandem with a driver, typically a responsible adult. This shared experience creates a unique bonding opportunity, as parents or older siblings can introduce younger family members to the joys of coaster riding, fostering trust and a sense of adventure in a safe, controlled environment.
The Rail Runner Mountain Coaster not only provides an unforgettable roller coaster experience but also encourages independence and family togetherness, all while celebrating the awe-inspiring natural beauty of the Smoky Mountains. It's an attraction that perfectly combines thrills, scenic wonder, and family fun in a unique and captivating way.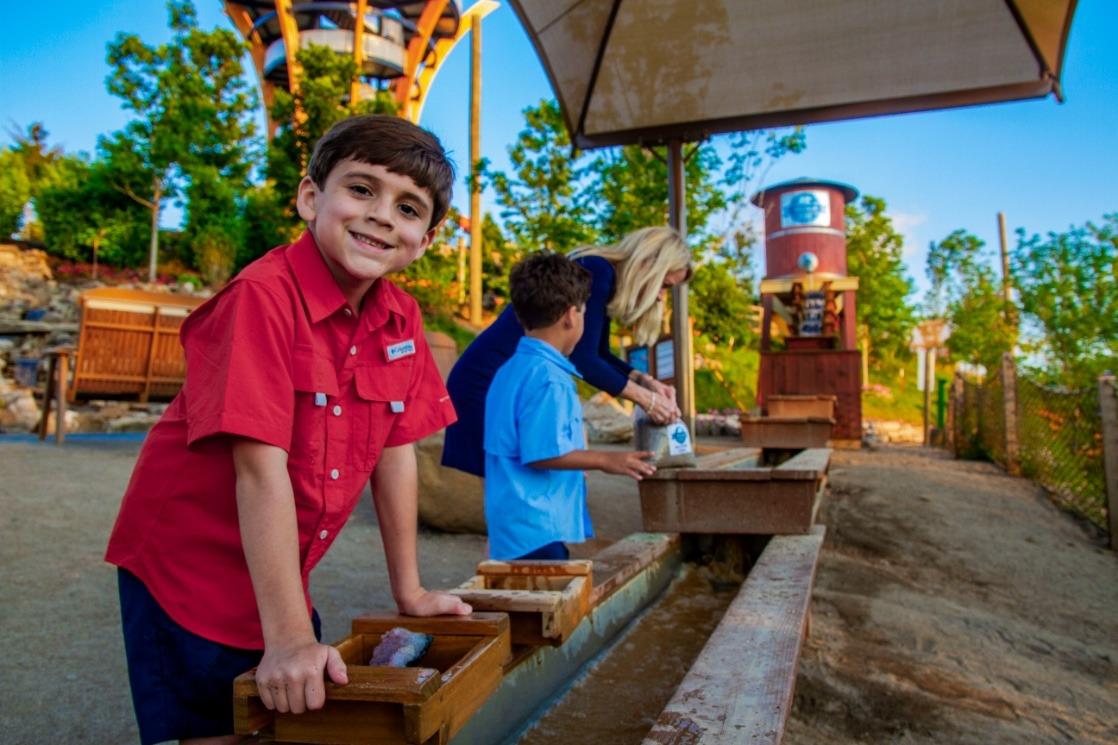 Gem Mining at Anakeesta offers a captivating blend of education and adventure that's perfect for children of all ages. This activity invites your young explorers to tap into their inner geologists, embarking on a quest to discover the hidden treasures of the earth. Nestled in the heart of the Smoky Mountains, this gem mining experience is a fantastic way for kids to connect with the natural world while having a blast.
At the heart of this activity is an interactive waterfall and sluice. As the water flows gently over the earth's sediment, it carries with it a trove of gemstones and fossils, just waiting to be unearthed. The sound of trickling water, the glint of gems beneath the surface, and the thrill of discovery all combine to create a truly enchanting experience.
As your children sift through the sediment, their eyes will light up when they spot their very first gemstone. The sparkle of a crystal or the curiosity of an ancient fossil can ignite a sense of wonder and fascination that only nature can provide. For parents, there's a unique joy in sharing this moment of discovery with your children. Together, you can explore the sediment, searching for those special gems and fossils that capture your imagination.
The experience of gem mining goes beyond the simple act of finding a treasure. It's an opportunity for kids to learn about geology, the natural forces that shape the Earth, and the origins of the gemstones they discover. This hands-on exploration can spark a lifelong interest in science and the wonders of the natural world.
Moreover, as you engage in gem mining, you become part of a tradition that dates back to the gold rush days. The thrill of finding something precious in the rough, the excitement of panning for hidden gems, and the sense of adventure are elements that connect generations, making this activity not just a fun diversion but a memorable family bonding experience.
4. Treehouse Adventure Play Area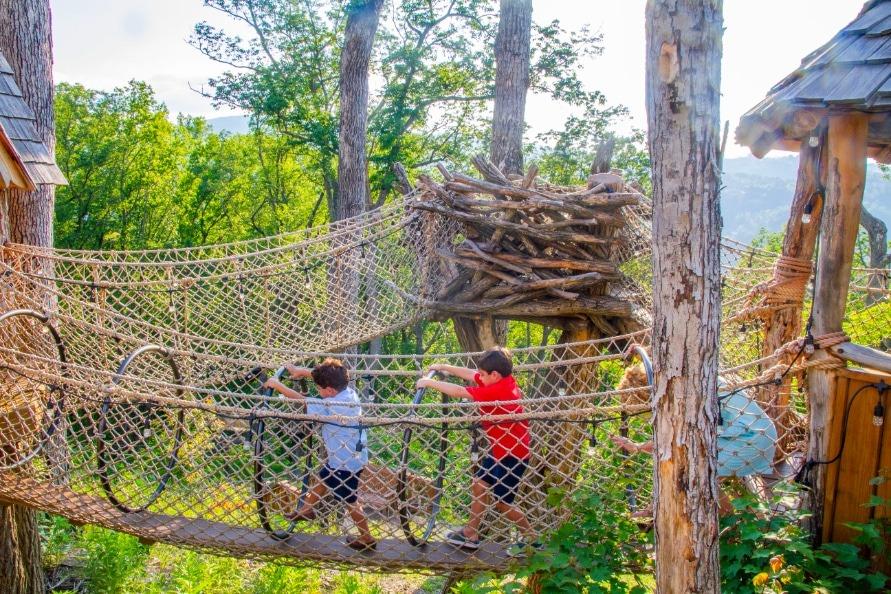 The Treehouse Adventure Play Area at Anakeesta is an exceptional playground designed to stimulate both physical and educational growth in children. Located amidst the natural splendor of the Smoky Mountains, this enchanting destination offers a diverse range of activities that will keep kids of all ages entertained, educated, and engaged.
The heart of this play area is a charming and thoughtfully designed treehouse village that captures the essence of the forest and its wonders. What makes it truly special is the intricate network of bridges that connect these treehouses, creating a captivating and interconnected world for children to explore. Each bridge presents a new adventure and a chance for kids to test their skills and courage.
Imagine your children embarking on a log walk that winds its way through the treetops, leading to an elevated bird's nest. Here, they can discover the fascinating world of an American Goldfinch, learning about how this captivating bird cultivates its home high above the forest floor. This immersive learning experience not only educates children about nature but also fosters an appreciation for the delicate balance of life in the great outdoors.
As they continue their exploration, kids can navigate a plank walk that guides them into a captivating maze encased by the embrace of the treehouses. This playful labyrinth promises fun and excitement as children engage their problem-solving skills, map out their routes, and celebrate their accomplishments. It's a delightful combination of education and entertainment that keeps young minds engaged and curious.
And then there's the tube net - a unique adventure in itself. Crawling through this net takes children deep into the heart of nature's walls, offering an intimate connection with the environment. As they traverse the web of ropes, they'll feel the thrill of discovery and the wonder of being surrounded by the lush forest. It's an adventure that ignites the spirit of exploration and a love for the natural world.
The Treehouse Adventure Play Area is more than just a playground; it's a realm where children can build strength and self-confidence as they tackle each challenge, expand their knowledge about the environment, and engage in physical and imaginative play. It's a space that nurtures curiosity, fosters an appreciation for nature, and creates a lasting connection with the Smoky Mountains.
5. BearVenture Challenge Course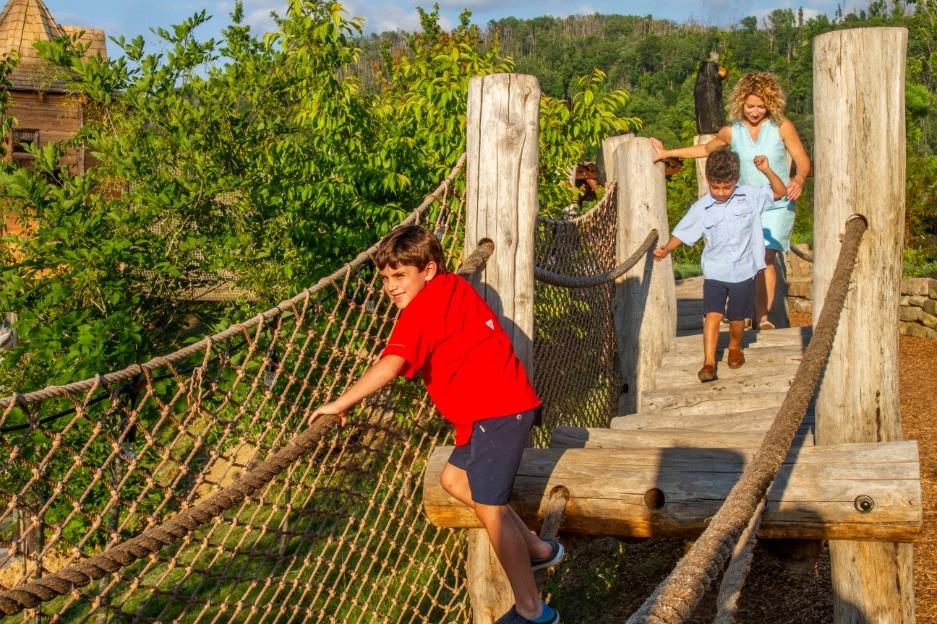 The BearVenture Challenge Course stands as a testament to the creative fusion of adventure and the great outdoors. Vista Gardens, a mountaintop garden retreat, is a haven where the very essence of the Smoky Mountains comes alive. Here, cascading waterfalls provide a soothing symphony, musical garden chimes play enchanting melodies, and cool mountain breezes carry the scents of wildflowers and towering trees. It's a natural sanctuary that beckons you to embrace the beauty and tranquility of the environment.
Within this idyllic setting, the BearVenture Challenge Course invites your children to embark on an exhilarating journey filled with physical challenges that encourage them to explore, play, and test their balance. As they traverse the BearVenture course, they'll be greeted by a playful bear theme that adds a touch of whimsy and adventure to the experience.
The course itself is a multi-faceted playground that beckons kids to climb, swing, balance, and push their physical limits. Amidst the scenic beauty of the Smoky Mountains, your children can embrace the excitement of conquering aerial obstacles, clambering over nets, navigating rope bridges, and much more. These challenges not only provide a thrilling adventure but also foster a sense of self-confidence and accomplishment in young adventurers.
As they ascend through the BearVenture Challenge Course, they'll be surrounded by the serenity and beauty of the Smoky Mountains. The course is a unique opportunity to blend fun and physical activity with a deep connection to nature. It's a space where the pure mountain air, the sound of babbling waterfalls, and the beauty of lush greenery create an enchanting atmosphere that enhances the adventure.
Come Play at Anakeesta and Stay with Stony Brook Cabins
Anakeesta, with its array of engaging and adventurous activities set against the breathtaking backdrop of the Smoky Mountains, offers an unforgettable experience for families seeking both excitement and natural beauty. Whether your children are exploring the TreeVenture Challenge Course, racing down the Rail Runner Mountain Coaster, unearthing treasures while gem mining, navigating the Treehouse Adventure Play Area, or conquering the BearVenture Challenge Course, Anakeesta promises lasting memories and countless smiles.
To ensure your Smoky Mountain adventure is complete, staying with Stony Brook Cabins provides the perfect home-away-from-home. Our cozy and well-equipped cabins are nestled in the heart of the mountains, offering the ideal blend of comfort, convenience, and proximity to Anakeesta and other attractions. It's a recipe for an extraordinary family vacation, where you can play in the mountains, explore nature's wonders, and return to the warmth and relaxation of your cabin. So, come play at Anakeesta and stay with us for a family vacation that promises cherished moments, scenic beauty, and the joy of discovery.