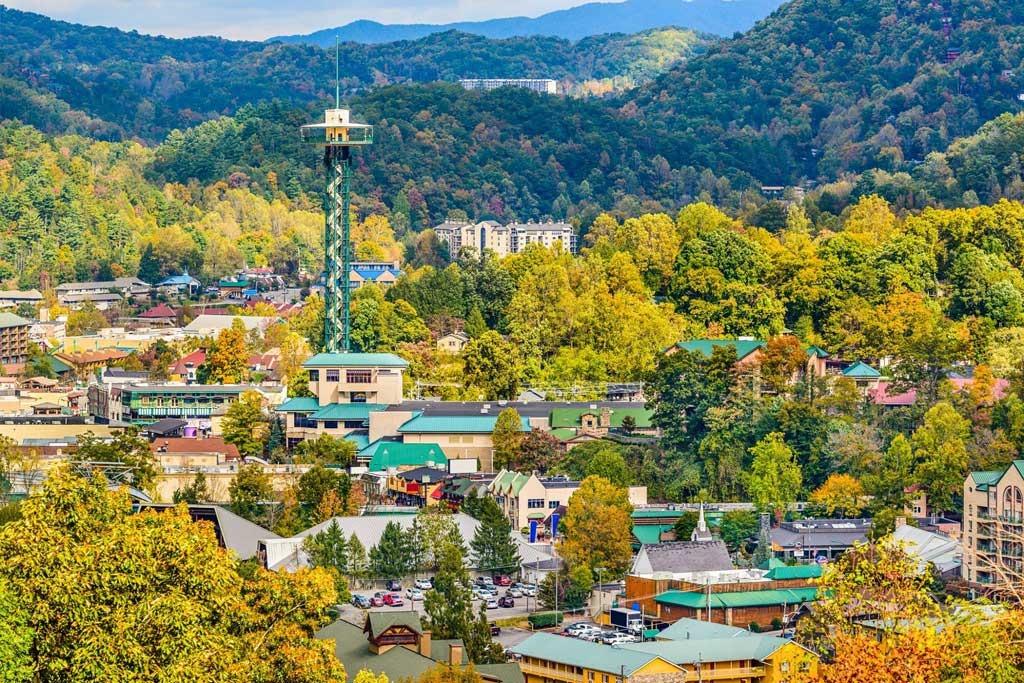 When it comes to the ultimate romantic getaway in the Smokies, there is no better destination than our Gatlinburg cabin rentals! We offer a selection of one bedroom cabins that couples love, all which are situated in amazing locations among the mountains! Whether you are celebrating a honeymoon or just want to enjoy some special time away with your sweetheart, don't miss the chance to experience our cabins! Here are the top 5 reasons why our one bedroom cabins in Gatlinburg TN are perfect for a romantic getaway:
1. Solitude Among the Mountains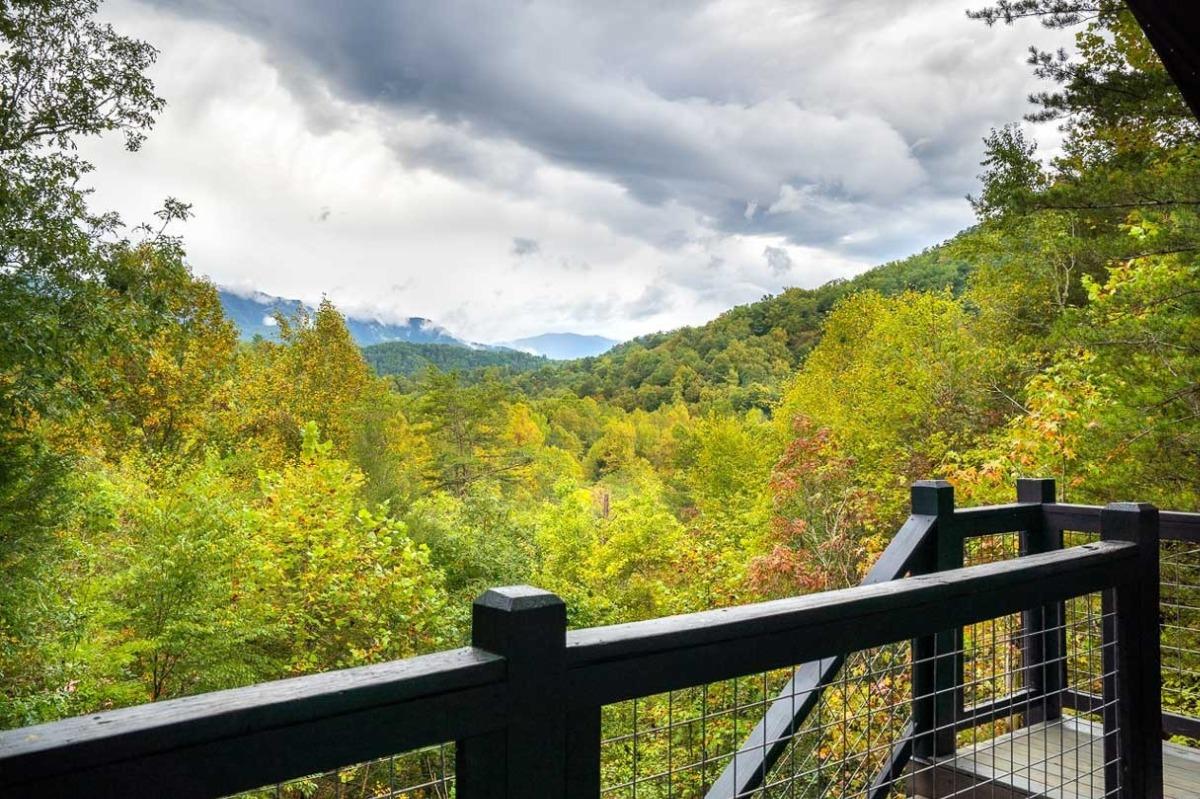 Staying in a one-bedroom cabin in Gatlinburg offers an exceptional and transformative escape from the frenetic pace of everyday life. As you step into the Smoky Mountains, you enter a world of serenity and awe-inspiring beauty that is virtually unrivaled. These charming cabins are strategically positioned in locations that provide a front-row seat to nature's grand spectacle. They offer uninterrupted and captivating panoramic views of the mountain ranges that surround you, serving as the canvas for your romantic escapade.
A private deck, often a defining feature of these cabins, becomes your own personal haven for romance. Here, you and your partner can find a comfortable spot to share the magic of the Smokies. These decks act as a threshold to the natural wonderland that surrounds you, inviting you to experience the changing tapestry of the seasons. In autumn, the mountains explode in vibrant hues of red, orange, and gold, offering a breathtaking backdrop for your romantic moments. Spring brings a lush, emerald landscape, with fragrant blossoms and delicate greenery. During the winter months, the mountains don a serene blanket of snow, creating a tranquil and pristine atmosphere that is perfect for couples seeking a cozy retreat.
The Smoky Mountains aren't just a setting; they're an ever-changing work of art. The dynamic scenery ensures that every visit to your one-bedroom cabin in Gatlinburg is a unique experience. The mountains provide an ever-evolving backdrop for your romantic journey, setting the stage for unforgettable memories. The symphony of nature, from the melodious chirping of birds to the rustling of leaves in the wind, fills the air with a soothing soundtrack, creating a magical atmosphere where you and your partner can reconnect and rejuvenate.
The seclusion and natural beauty of the Smoky Mountains create an ambiance that fosters romance and connection. The world's distractions and responsibilities melt away as you find yourselves immersed in this peaceful sanctuary. The cabin, perched amid the majesty of nature, becomes your private hideaway where you can escape the routines of everyday life and rediscover each other. Whether you're cuddled up in front of a crackling fire, sipping on a glass of wine, or simply sitting on the deck and gazing at the stars, every moment is an opportunity to deepen your connection and create cherished memories.
2. Romantic Cabin Amenities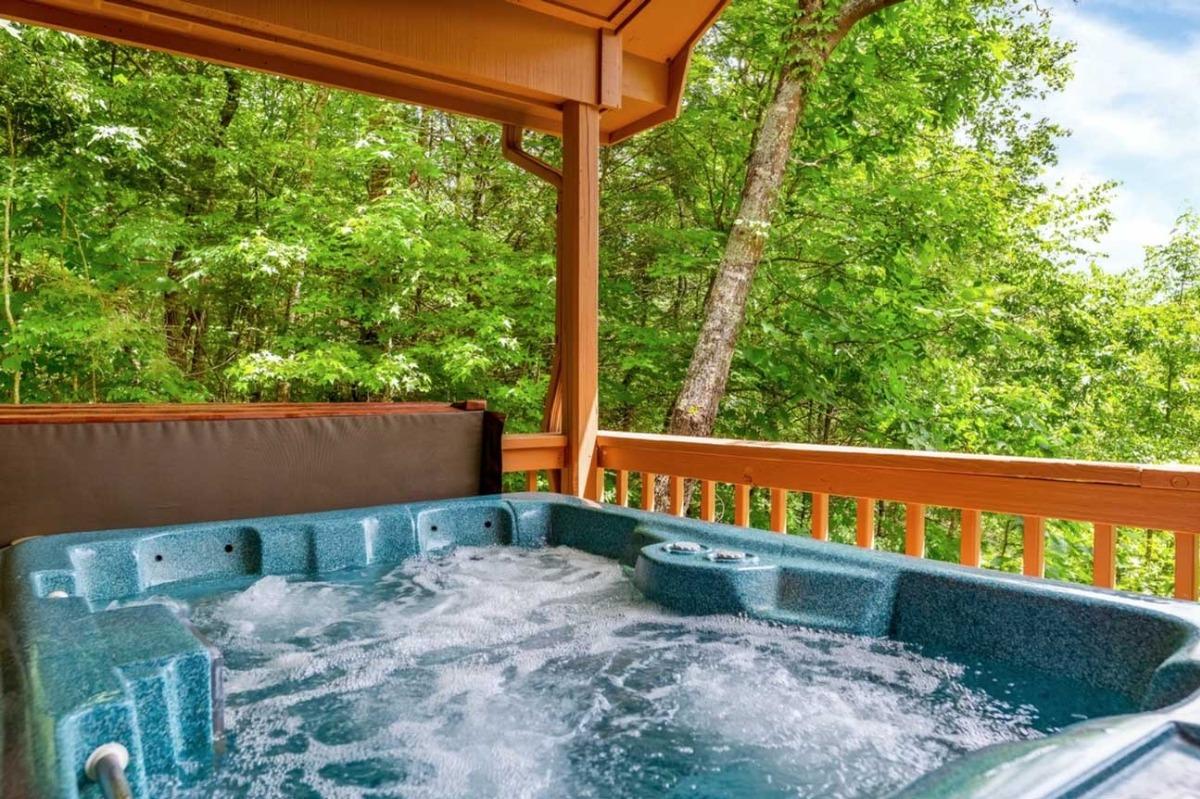 These one-bedroom cabins in Gatlinburg are tailor-made for romance. They are meticulously designed to evoke an ambiance that encapsulates enchantment, providing couples with the perfect setting for a romantic retreat. From the moment you step inside, you're greeted by an atmosphere that whispers sweet nothings in your ears and sets the stage for an unforgettable getaway.
The pièce de résistance in these cabins is often the charming fireplace. These hearths serve as the heart of the cabin, and they're known for casting a warm and inviting glow that envelops the space in an intimate and cozy embrace. Imagine snuggling up with your partner on a plush couch or by the fireside, sharing stories, laughter, and perhaps a glass of wine. The flickering flames create an ambiance that encourages heartfelt conversations, quiet moments of reflection, and cherished memories.
But the allure of these cabins doesn't stop at the fireplace; they often boast an additional romantic feature: hot tubs on the cabin's deck. This amenity takes the romantic experience to new heights. Picture yourselves sinking into the warm, bubbling waters of the hot tub, surrounded by the tranquility of the mountains. Above, a celestial canopy of stars shimmers in the night sky, providing an enchanting backdrop to your soak. This is where you can let the cares of the world drift away, where you can whisper sweet words to each other under the moon's gentle gaze, and where you can bask in the serenity of the Smokies. The combination of the tranquil natural surroundings and these romantic amenities kindles the flame of love and passion between you and your partner, creating a romantic experience that's nothing short of magical.
3. Fully Equipped Kitchens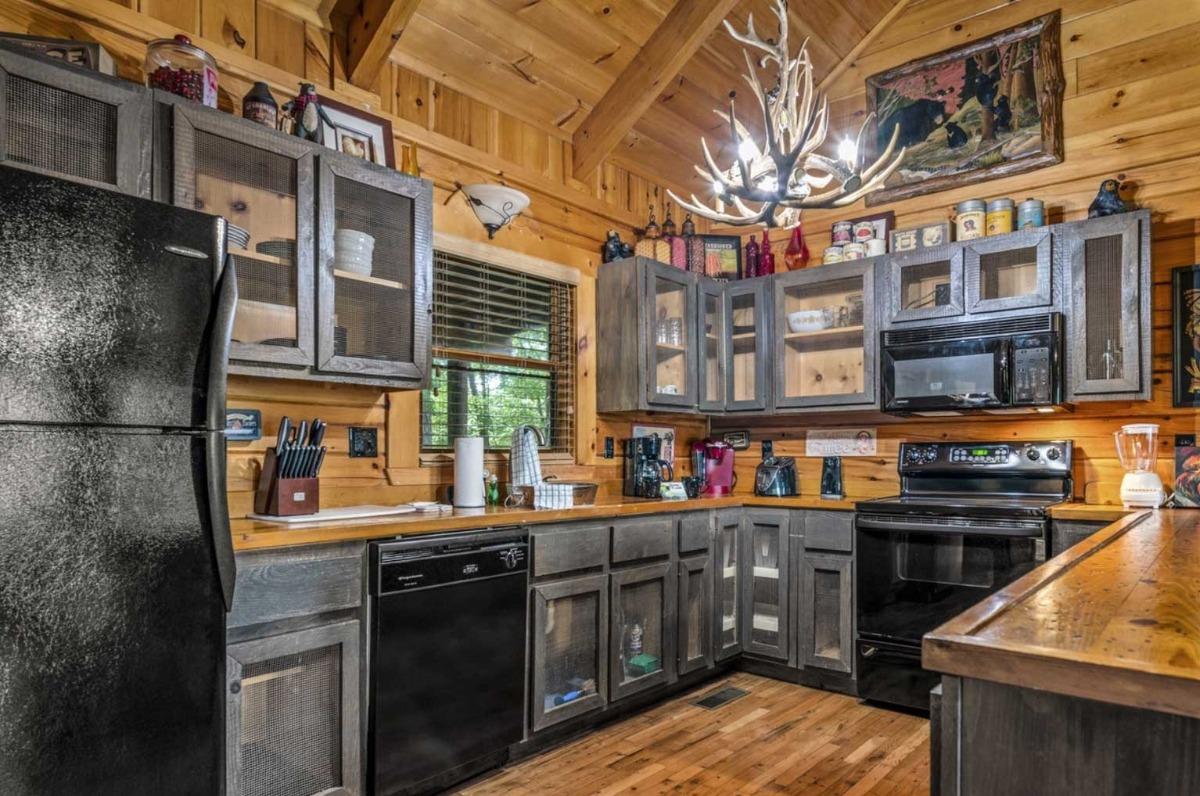 One of the standout features of these cabins is the presence of fully equipped kitchens. These kitchens aren't just functional; they're designed to elevate your romantic getaway to new heights. The kitchen becomes a hub of activity, a place where you and your partner can come together to create culinary magic, fostering a deeper connection.
The kitchen's inclusion enhances the convenience and flexibility of your romantic getaway in multiple ways. Imagine embarking on a joint culinary adventure, working side by side with your loved one to prepare a special meal. Cooking together, whether it's whipping up a hearty breakfast, crafting a gourmet dinner, or simply baking a batch of cookies, can be a delightful bonding experience. The shared task of chopping, mixing, and stirring becomes a shared memory, and the satisfaction of creating a delicious dish together is truly heartwarming.
Picture the scene: you're in the cozy kitchen of your cabin, the smell of your partner's favorite meal wafting through the air. As the fireplace crackles in the background, you unveil a carefully prepared dinner that shows thought, effort, and love. This is where romance intertwines with the culinary arts, and your partner's heart is warmed not just by the meal but by the gesture.
Furthermore, even if you decide to venture out and explore the romantic restaurants in Gatlinburg, the cabin's kitchen remains an invaluable resource. It serves as a convenient space for storing any delectable leftovers from your dining adventures, ensuring that no morsel of a delicious meal goes to waste. Whether it's a slice of decadent cake from a charming patisserie or a perfectly seasoned steak from a local grill, these leftovers can be cherished as the delightful remnants of your romantic escapade, and they can be savored later at your leisure.
This practical amenity not only adds convenience but also enhances the overall experience of your getaway. It provides you with the freedom to tailor your culinary experiences to your preferences, whether it's the joy of cooking together, the surprise of a lovingly prepared meal, or the ability to preserve the flavors of the city's romantic dining scene. The kitchen becomes a versatile space, a place of culinary exploration, connection, and the creation of cherished memories.
4. Fun Things for Couples to Do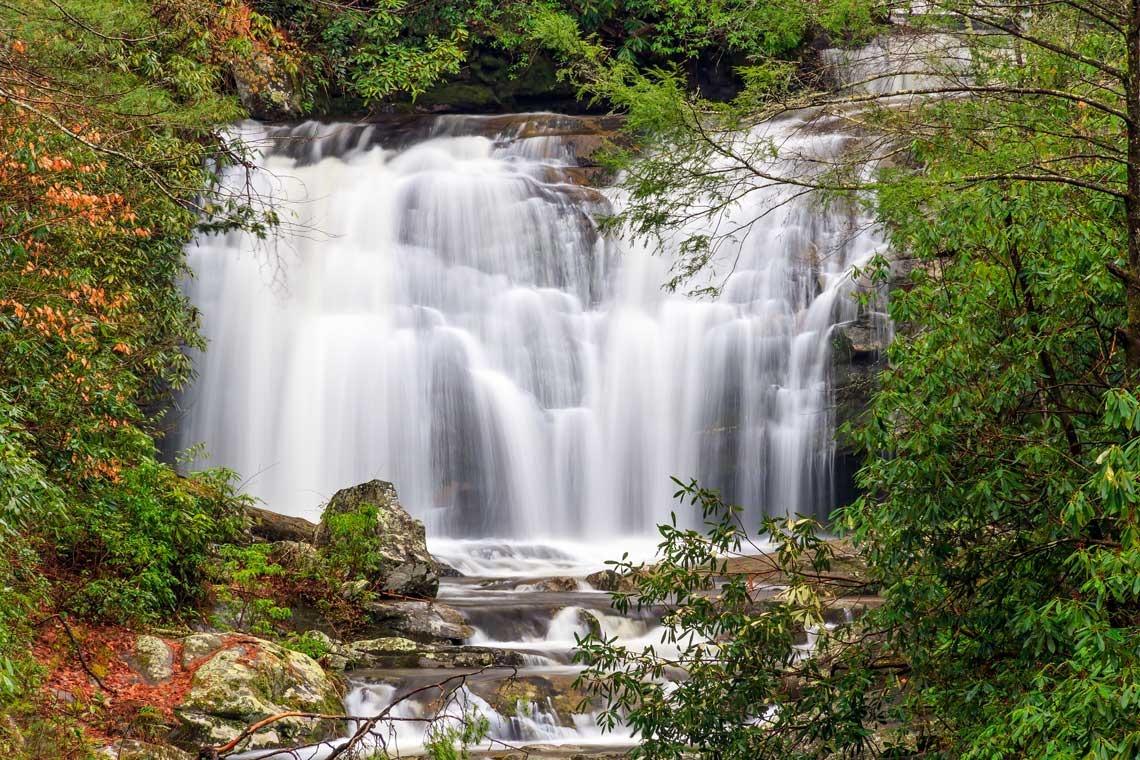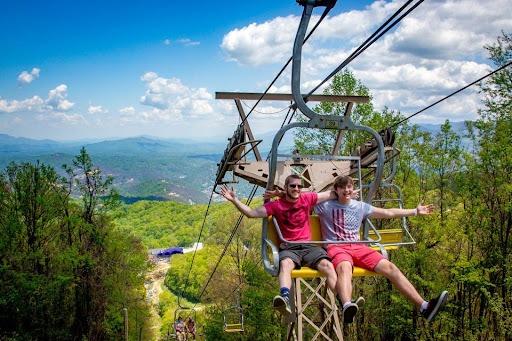 Despite the peaceful and secluded setting of our one-bedroom cabins in Gatlinburg, there's a world of enchanting experiences just moments away, ensuring that your romantic getaway is both serene and brimming with excitement.
Downtown Gatlinburg: A leisurely evening stroll through the charming streets of downtown Gatlinburg is an experience that promises to be as captivating as it is romantic. Explore the unique shops, where you can discover locally crafted treasures, delightful keepsakes, and sweet surprises for each other. The quaint atmosphere of the town lends itself to moments of shared discovery, and you'll find an array of cozy cafés and restaurants where you can enjoy a romantic meal for two.
River Road: If you're looking to escape the crowds and bask in the serenity of nature, River Road offers an idyllic escape. This tranquil walkway alongside the Little Pigeon River provides an opportunity for couples to immerse themselves in the soothing sounds of the flowing water, the rustling of leaves, and the rustling of wildlife. It's an ideal setting for quiet conversations, hand-in-hand walks, and uninterrupted moments of connection.
Gatlinburg SkyLift: For a thrilling and romantic adventure, consider taking a night ride on the Gatlinburg SkyLift. As you ascend the mountain, you'll be treated to breathtaking vistas of the town's sparkling lights below. The night ride offers a unique perspective of the Smokies at night, turning your romantic escape into a truly magical experience.
Ober Gatlinburg: If you're visiting during the winter months or simply want to try something fun and unique, Ober Gatlinburg offers the chance for couples to enjoy a delightful ice skating session. Glide hand in hand on the ice, with the snow-covered peaks surrounding you, creating a truly enchanting atmosphere. Additionally, Ober Gatlinburg boasts an array of other activities, from skiing to the scenic Aerial Tramway ride, providing you with even more options for shared adventure.
Cades Cove: A scenic drive through Cades Cove is a must-do activity for couples looking to connect with nature and each other. This picturesque valley within the Great Smoky Mountains National Park is a haven for wildlife, offering the chance to spot deer, black bears, wild turkeys, and more. The 11-mile loop road provides ample opportunities for stunning photo stops and tranquil moments of reflection, making it an ideal day trip for couples seeking a romantic nature adventure.
Gatlinburg offers a blend of seclusion and easy access to a variety of delightful experiences for couples. You can enjoy the charm of downtown Gatlinburg, escape to the serene beauty of River Road, embark on thrilling night rides, share ice skating adventures, or explore the wonders of Cades Cove. This combination of tranquility and excitement ensures that your romantic getaway is a well-rounded, memorable experience that leaves you with a treasure trove of shared memories.
5. Affordable Cabin Rates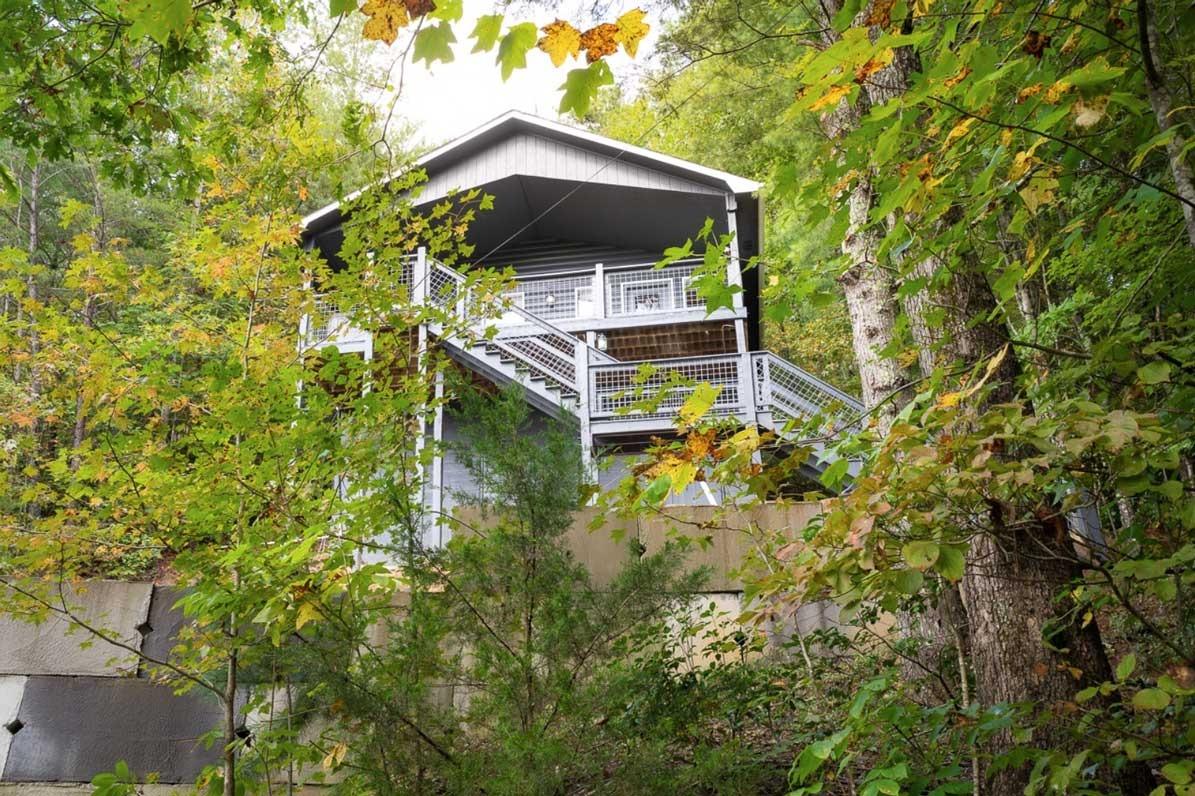 The misconception that a romantic getaway must be extravagant is a common one. However, when you explore the options offered by our one-bedroom cabins in Gatlinburg, you'll quickly discover that luxury and affordability can harmoniously coexist. These cabins offer a world of value that extends beyond their reasonable rates.
First and foremost, the affordability of our one-bedroom cabins is a key selling point. You'll be pleasantly surprised by the budget-friendly options available, ensuring that you can enjoy a memorable romantic escape without breaking the bank. The combination of a serene natural setting, comfortable accommodations, and the array of amenities provided is designed to ensure that your getaway remains within your budget.
When you look at the overall value that these cabins offer, it becomes even more evident that you're getting an exceptional deal. The spectacular location, nestled amid the beauty of the Smoky Mountains, provides a backdrop of unparalleled natural splendor that would be the envy of many destinations. The seclusion and intimacy of your cabin, coupled with the romantic amenities, guarantee an experience that is worth every penny spent.
As an added bonus, we offer a Free Fun Pass to Gatlinburg attractions to all our guests. This pass allows you to explore and enjoy a variety of local entertainment and activities without incurring additional expenses. It's a gesture that enhances the value of your stay, providing you with access to experiences that would otherwise come at an extra cost.
One-bedroom cabins in Gatlinburg not only redefine the notion of an affordable romantic getaway but also exemplify the concept of value. Your stay provides a unique opportunity to immerse yourselves in the beauty of the Smoky Mountains, enjoy the comforts and amenities of a well-appointed cabin, and partake in local attractions and entertainment without straining your budget. It's a holistic experience that combines affordability and luxury, proving that your romantic getaway doesn't have to be extravagant to be exceptional. Instead, it's an investment in shared moments, a celebration of love, and an opportunity to create lasting memories.
Embrace the Romance: Why Stony Brook Cabins is Your Ideal Choice for a Romantic Getaway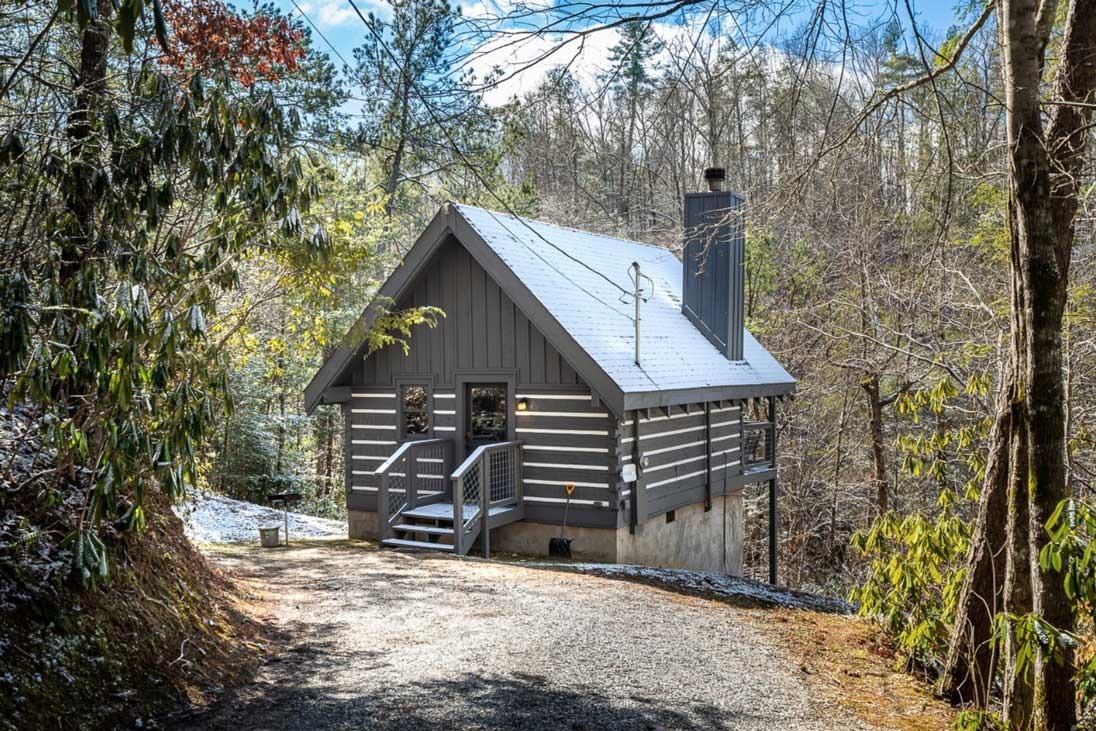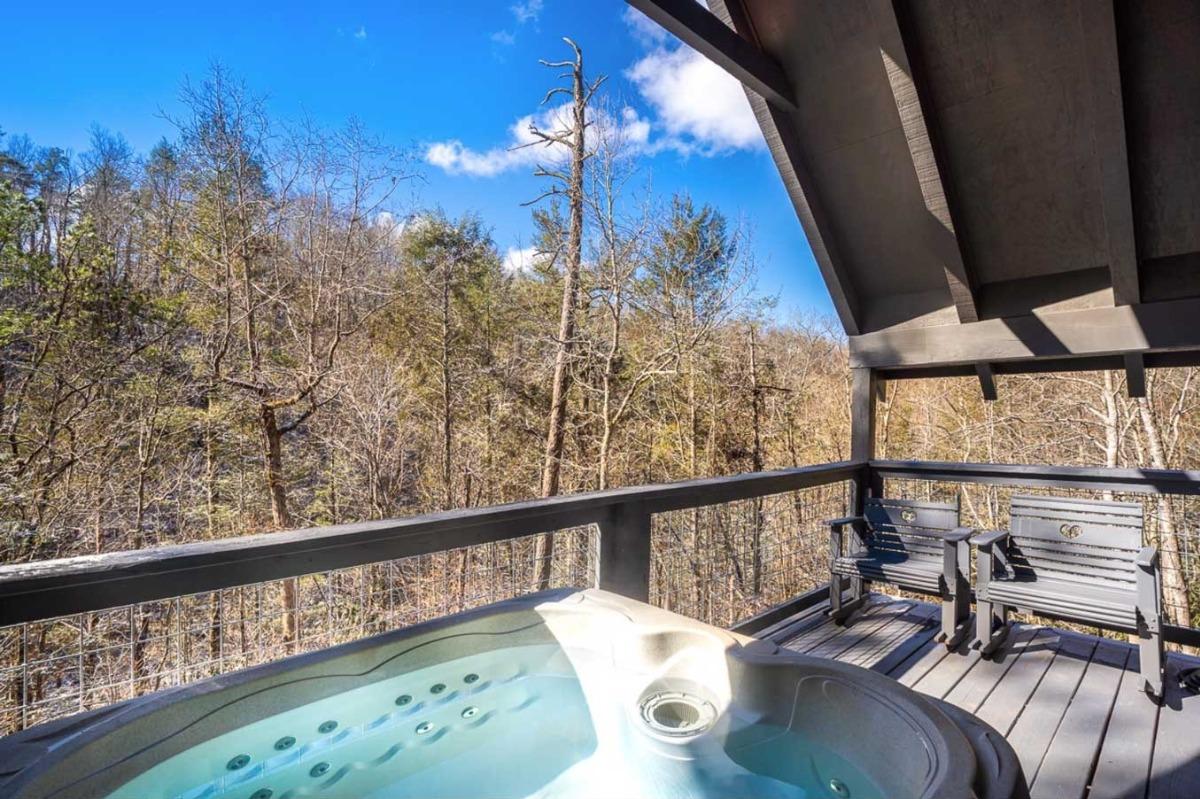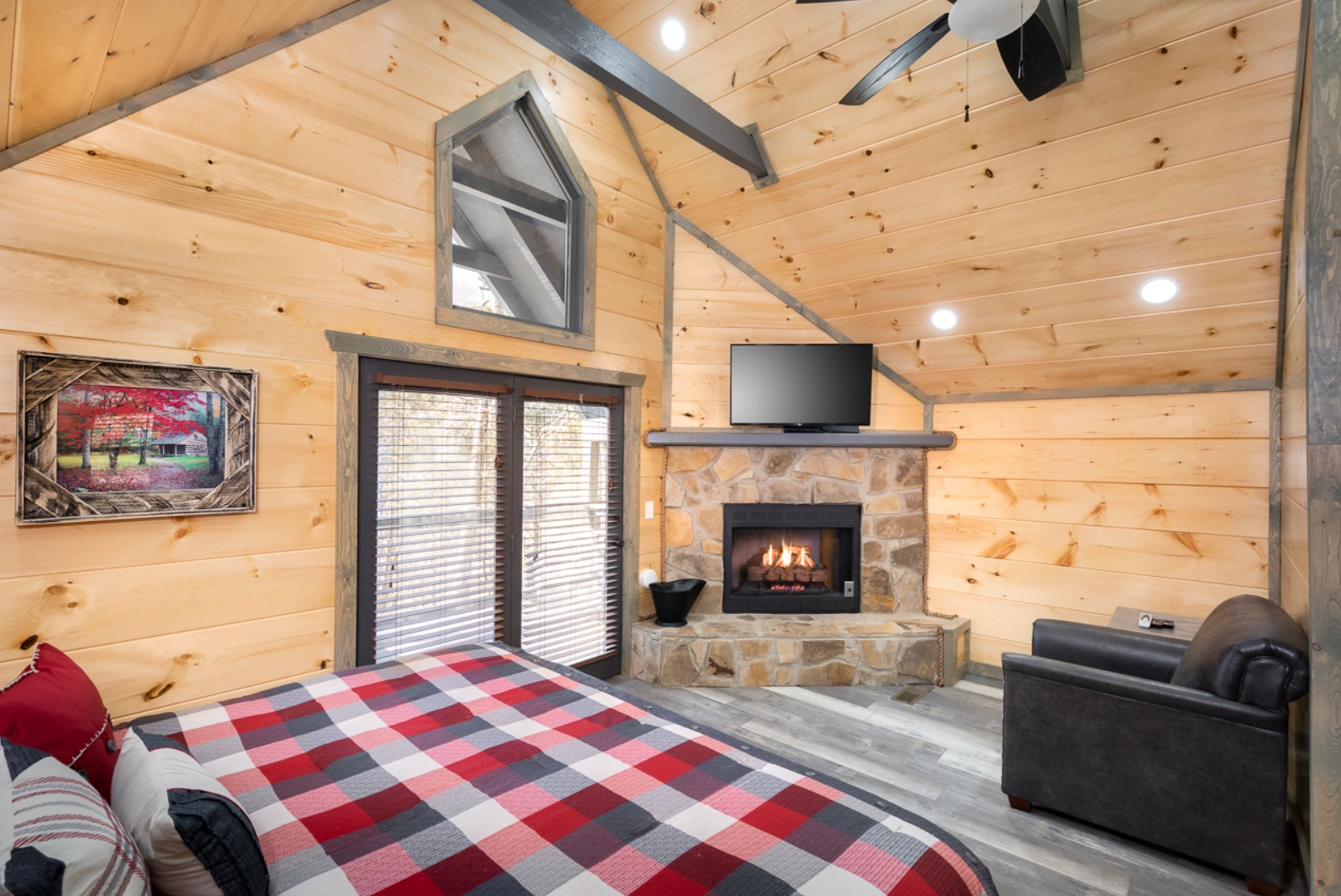 Choosing to have a romantic getaway and stay with Stony Brook Cabins offers a unique and compelling experience that encompasses everything you could desire for a memorable escape with your loved one. From the serene seclusion among the Smoky Mountains to the enchanting amenities that spark romance, the fully equipped kitchens for culinary bonding, proximity to delightful activities for couples, and the incredible affordability of our one-bedroom cabins truly stand out as the ultimate choice for a romantic retreat.
At Stony Brook Cabins, your romantic getaway becomes an opportunity to celebrate love, deepen your connection, and cherish the beauty of the Smoky Mountains. It's a journey filled with moments of warmth, magic, and shared discovery, where every detail has been designed with your romance in mind. We invite you to embark on this extraordinary adventure with us, and we look forward to welcoming you to the heart of the Smokies, where your love story is destined to flourish amid the beauty of nature and the charm of our one-bedroom cabins. Choose Stony Brook Cabins for an unforgettable romantic escape that will be etched in your hearts forever.