When autumn arrives in the Smoky Mountains, nature transforms into a vibrant canvas of rich, warm hues, creating a picturesque landscape that's simply awe-inspiring. The best way to immerse yourself in this seasonal wonder is by taking advantage of Gatlinburg's top attractions that offer unparalleled views of the Smoky Mountains fall foliage. Whether you're soaring high above the treetops, ascending majestic peaks, or gliding along chairlifts, there are numerous ways to witness the magnificent colors of fall. Here are 4 Gatlinburg attractions that offer amazing views of the Smoky Mountains fall foliage: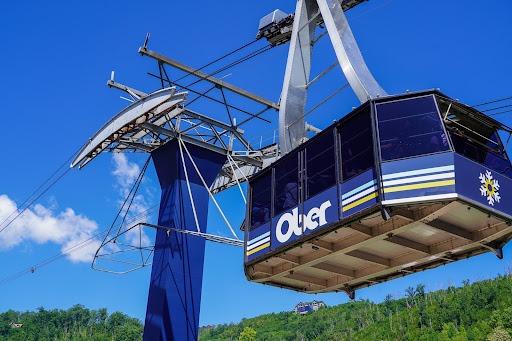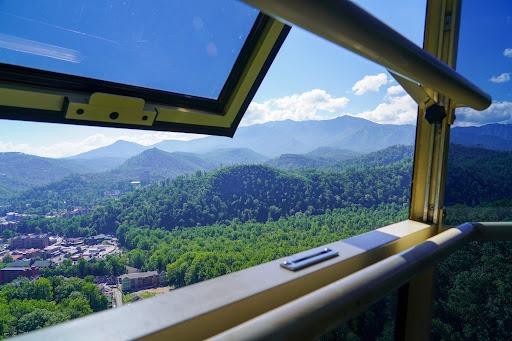 Get ready to be blown away by the Aerial Tramway - it's a must-see attraction that's a true gem of the United States. This massive tramway covers a distance of 2.1 miles, starting in downtown Gatlinburg and taking you all the way to Ober Mountain. During this ride, you'll be lifted an impressive 1,472 feet above where you began.
As you make your way to the top, you'll be treated to some of the most stunning views you can imagine. You'll find yourself at an elevation of 2,813 feet above sea level, and the sight is absolutely breathtaking. And if you're into photography, you're in for a treat – you'll get the chance to capture some fantastic shots, with the tram reaching heights of up to 300 feet above the ground.
The tramway operates with two 120-passenger cars, so there's a departure every 15 minutes throughout the day, giving you plenty of opportunities to take in this incredible experience. It's one adventure you definitely don't want to miss – it's like a front-row seat to the beauty of the Smoky Mountains in the fall.
2. Scenic Chairlift at Ober Mountain
For those seeking to elevate their Smoky Mountains experience even higher, the Scenic Chairlift at Ober Mountain offers a thrilling next chapter to your journey. Following your arrival at Ober Mountain via the Aerial Tramway, this attraction extends the excitement further with an astounding 779-foot vertical ascent. At a length of 3,019 feet, it proudly boasts its status as the longest chairlift of its kind across the United States.
As you settle into the comfortable chairlift, the anticipation builds for the magnificent vistas that await you. The smooth, serene ride gradually propels you to the pinnacle of Mt. Harrison, standing tall at a remarkable 3,455 feet above sea level. The views from this vantage point are nothing short of spectacular. On clear days, you can cast your gaze as far as Douglas Lake, a glistening expanse nestled amidst the natural beauty of the Smoky Mountains.
In addition to breathtaking panoramas, the Scenic Chairlift offers picture-perfect perspectives of the iconic Mt. LeConte. Its rugged, majestic contours form an awe-inspiring backdrop against the canvas of fall foliage that blankets the region. The vibrant colors and serene landscape provide a sensory experience that's truly invigorating.
This adventure is not only a visual delight but also an opportunity to escape the hustle and bustle of everyday life. The gentle sway of the chairlift and the whisper of the wind through the trees create a calming ambiance, perfect for taking in the beauty of the Smoky Mountains.
The Scenic Chairlift, with its extraordinary height and scenic rewards, offers a serene and rejuvenating journey, making it a cherished memory in your exploration of the Smoky Mountains during the fall season. Don't miss the chance to extend your adventure, taking in the grandeur of the landscape from even greater heights.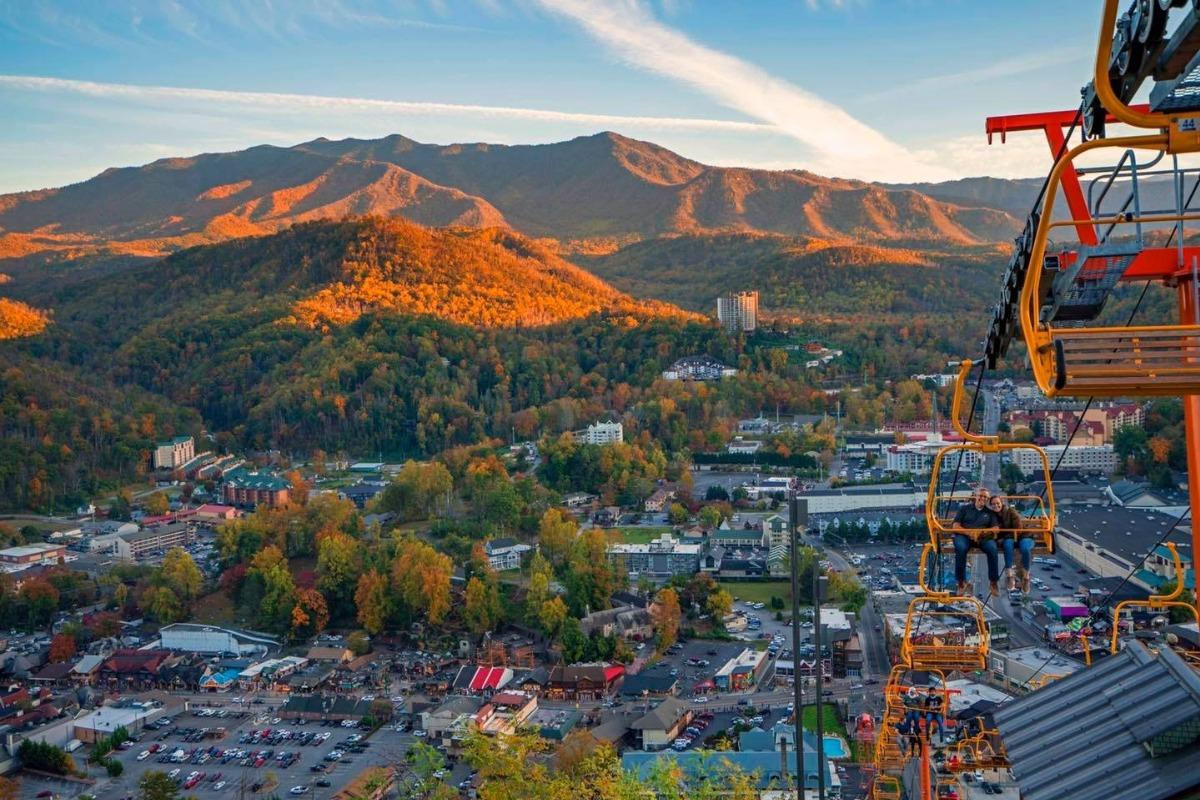 The Gatlinburg SkyLift stands as a true icon. With a history that dates back to 1954, it's not only one of the longest-running attractions in Gatlinburg but also the inaugural four-season scenic chairlift to grace the southern landscape. This classic attraction carries with it a sense of heritage, serving as a bridge between the town's rich past and the vibrant present.
From the heart of downtown Gatlinburg, the SkyLift swiftly whisks you away, ascending a grand 1,800 feet above sea level to the summit of Crockett Mountain. The journey is more than just a means of transport; it's a magical passage that gradually reveals the grandeur of the Smoky Mountains in all their autumnal glory. As the chairlift rises, you'll feel a palpable sense of anticipation as you ascend into the realm of nature's stunning artistry.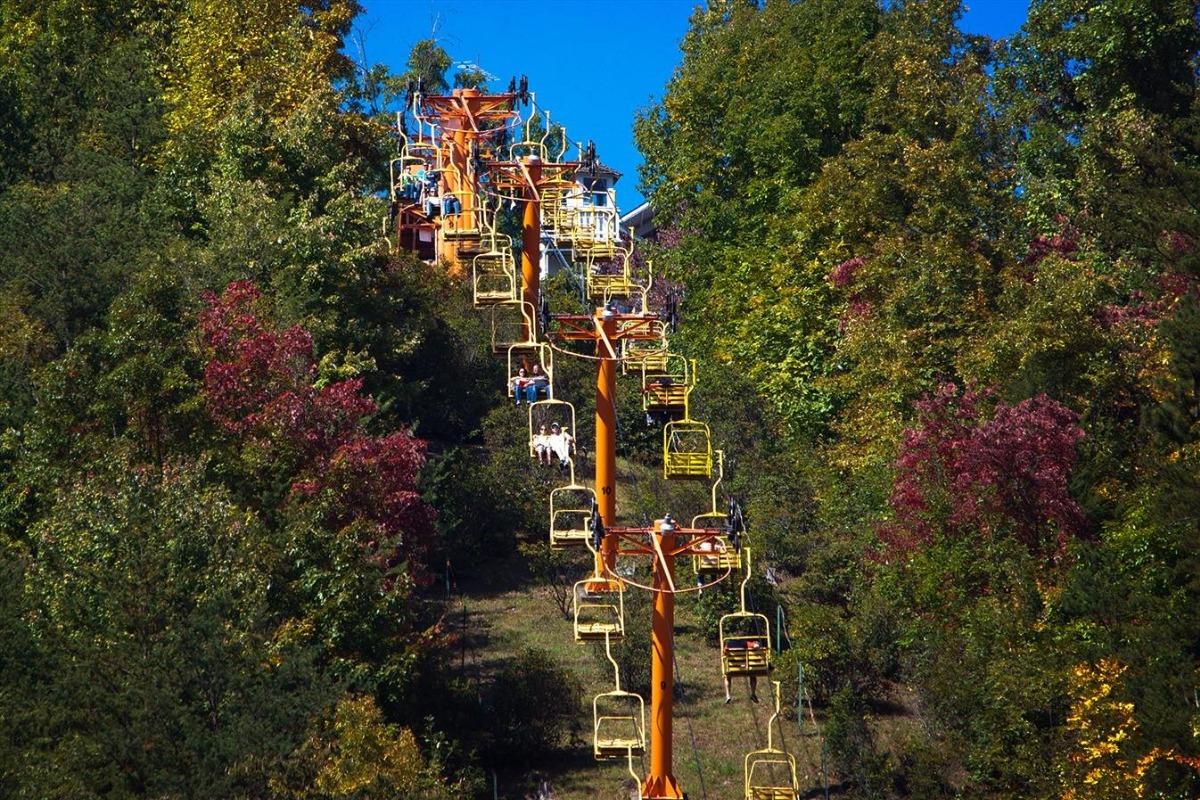 Upon reaching the mountain's pinnacle, a world of exploration unfolds before you. Stepping off the chairlift, you'll find yourself at the gateway to two distinct adventures. The first is the world-renowned Gatlinburg SkyBridge, a record-breaking marvel that boasts the title of the longest pedestrian suspension bridge in North America. Crossing this breathtaking expanse, you'll be treated to views that simply defy description, allowing you to see the Smoky Mountains from an entirely new perspective.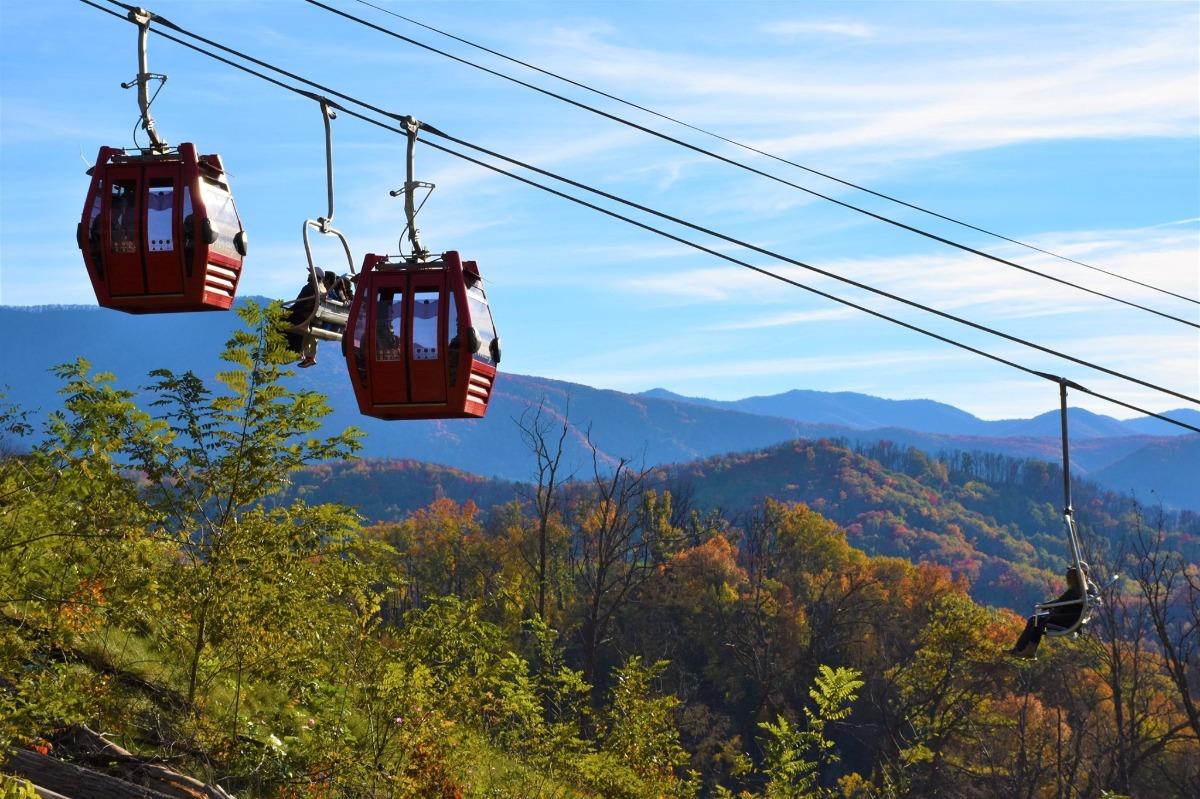 At Anakeesta, the magic of the Smoky Mountains awaits, and one of the standout experiences is the Chondola – a one-of-a-kind attraction that's sure to leave you in awe. What makes this journey so special is that it's the world's sole fixed-grip chondola, offering you a choice between two distinct modes of transportation. You can opt for an open-air 4-person chair equipped with a convenient bar for your comfort, or you can select the enclosed gondola cabin, which provides spacious seating for up to 6 passengers.
Whichever mode you choose, your adventure begins with an ascent of 600 feet. This gradual elevation carries you up to the enchanting Anakeesta theme park, where a world of wonder and natural beauty unfolds before you. As you rise, be prepared to be captivated by even more breathtaking bird's eye views of the Smoky Mountains in their full autumnal splendor. The landscape below transforms into a kaleidoscope of warm, fiery hues, making for a visual feast that's simply unforgettable.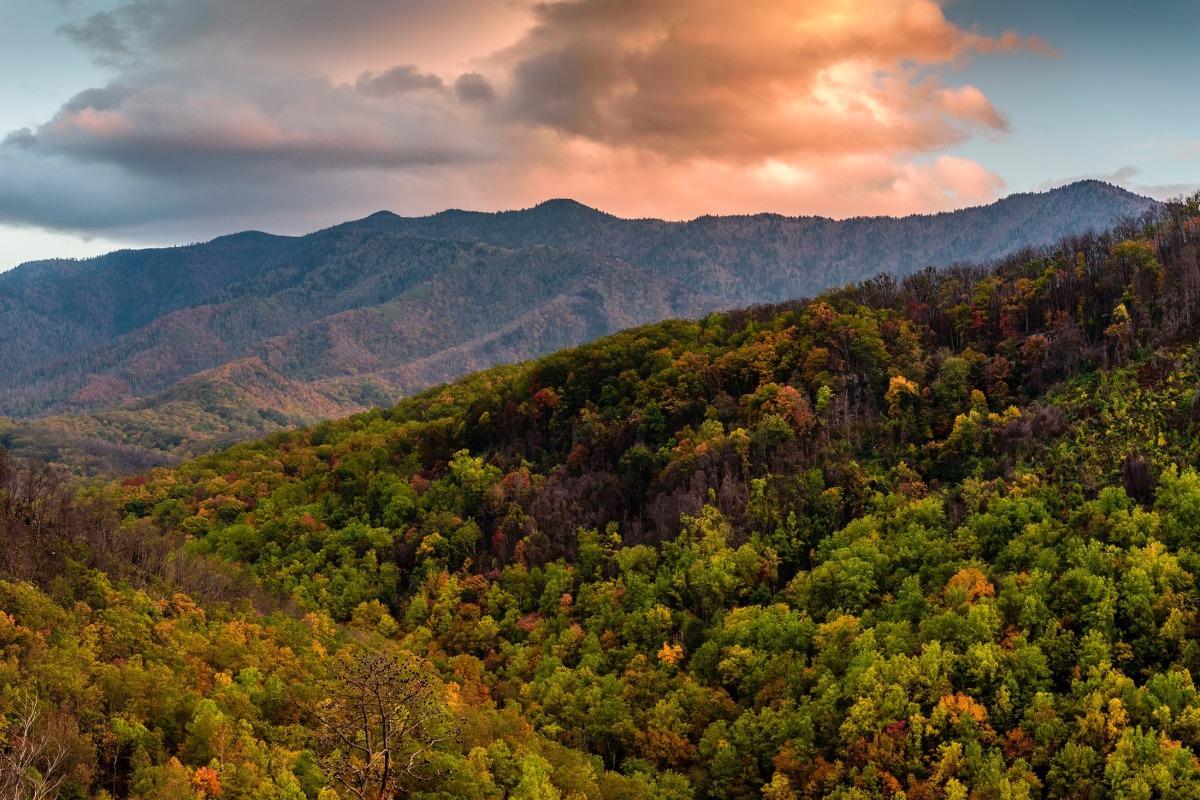 But there's more to this journey than just the stunning vistas. The Chondola route takes you above a historic campus, providing you with a unique perspective on the area's heritage. This landscape also serves as a natural habitat for the park's neighbors and many forest friends, adding an element of wildlife spotting to your adventure. Keep your eyes open, and you might even have the incredible chance to spot a bear in its natural habitat, creating a lasting memory you'll cherish forever.
The Chondola at Anakeesta is more than just a mode of transportation; it's a gateway to an elevated world of wonder and exploration. It's an opportunity to connect with nature and history, to breathe in the crisp mountain air, and to immerse yourself in the enchantment of the Smoky Mountains during the fall season. So, don't miss your chance to embark on this unique adventure that offers both tranquility and exhilaration, wrapped in the scenic beauty of the Smokies. It's a journey that promises to leave a lasting impression on your heart and soul.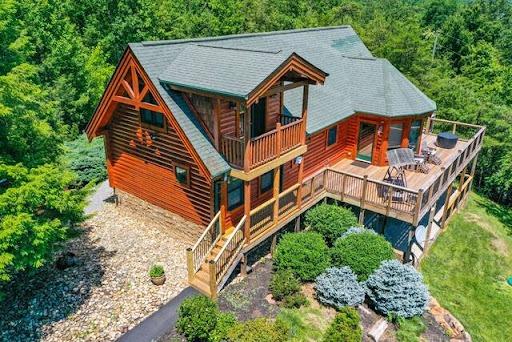 Are you seeking the ideal sanctuary from which to bask in the glorious Smoky Mountains fall foliage? Look no further than Stony Brook Cabins, your trusted partner for an extraordinary getaway in Gatlinburg. We offer a wide array of meticulously curated rental properties, designed to cater to every traveler's unique desires and needs. Our diverse portfolio includes cozy cabins nestled in the heart of the Smokies, luxurious chalets with breathtaking mountain views, and spacious vacation homes that can accommodate the whole family or a group of friends. Each of our rental properties is not just a place to stay; it's a home away from home, exuding warmth and comfort.
What sets Stony Brook Cabins apart is our unwavering commitment to creating an unforgettable Smoky Mountains experience. Our cabins are meticulously maintained, ensuring that your stay is marked by both luxury and convenience. From fully equipped kitchens to bubbling hot tubs, our properties are equipped with everything you need to make your stay as seamless and enjoyable as possible.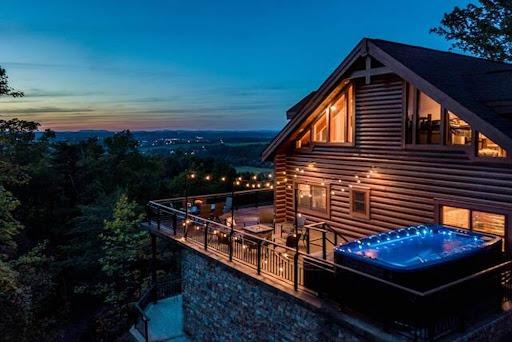 When you choose Stony Brook Cabins as your lodging provider, you're also opening the door to a world of possibilities. Our rental properties are strategically located to immerse you in the breathtaking beauty of the Smoky Mountains. Wake up to the sight of nature's kaleidoscope as the fall foliage surrounds you, and spend your days exploring hiking trails, enjoying the local culture, and savoring the vibrant charm of Gatlinburg.
And while the allure of the mountains is undeniable, Gatlinburg itself boasts a plethora of attractions and activities that will captivate your heart. The Aerial Tramway, Scenic Chairlift, Gatlinburg SkyLift, and Chondola at Anakeesta, all previously mentioned, are just a glimpse of what this town has to offer.
So, whether you're a nature enthusiast, an adventure seeker, or simply looking for a tranquil escape, Stony Brook Cabins is the key to unlocking a memorable journey in the Smoky Mountains. We await the privilege of being your host and guide, dedicated to ensuring your vacation exceeds your expectations. Your search for the perfect Smoky Mountains escape ends here. Come, stay with us, and let the magic of this autumnal wonderland envelop you. We can't wait to welcome you and share the beauty and serenity of the Smoky Mountains with you. Your extraordinary adventure is just a reservation away.